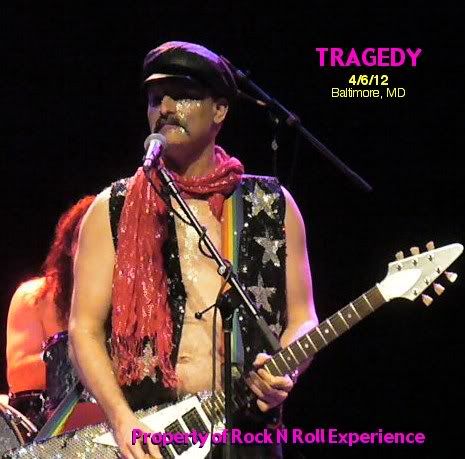 TRAGEDY
April 6, 2012
Baltimore, Maryland
The Bee Gee's were a disco act made up of brothers who had distinct voices and they peaked in the 1970's with music that many say killed rock n roll during that era. That's why it's actually quite ironic to have a band like Tragedy which is a Metal Bee Gee's tribute act. The music of the Bee Gee's had nothing to do with Metal, yet the members of Tragedy play glam metal covers of Bee Gee's music and they sell it pretty damn well!
When you go to see Tragedy you can expect boat loads o' glitter, spandex, loud guitars & fun music that has less to do with disco and more to do with just having a good time!
The members of Tragedy all dress like they went to a yard sale Paul Stanley from KISS was throwing....most of their costumes have sequins & stars and the lead guitarist even wears feathered arm warmers like Paul Stanley did back in the 70's! The only thing the band is actually missing would be the platform boots.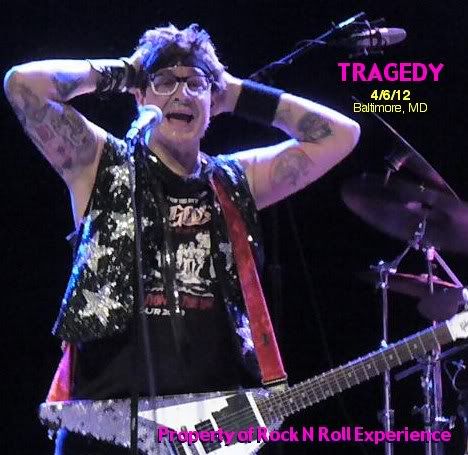 If you look closely at the first pic in this review you can see the guy who borrowed a bit from the Village People & Rob Halford....he sported the traditional gay biker cap, mustache & a rainbow guitar strap...I was actually surprised that member didn't bust out some Village People! Also, I don't think he could've caked on anymore glitter if he tried...his face was literally nothing but glitter & mustache!
The interesting thing about Tragedy is how even though the show & the music is meant to be a joke the members of Tragedy ARE good players and clearly know what they are doing up there. Each member of the band minus their drummer all sing quit well and take turns singing lead vocals.
Tragedy's drummer looks like he came from a death metal band & he's the only member who doesn't dress the part of a glam metal guy.
The crowd in attendance was small but everyone there had a great time and partied along with the band. At the very end of the show the band started pulling audience members onstage and allowed them to dance, play tambourine & one lucky guy got to play guitar with the band during the nights closer, "Tragedy"!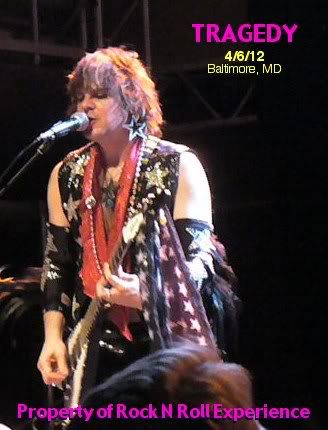 The bands encore started out funny when they dedicated a song to Whitney Houston which started out with the riffs of "Cocaine" by Eric Clapton but the lyrics the band sang were from the song "My Prerogative" by Bobby Brown & then they switched the lyrics over to "I Wanna Dance With Somebody" by Whitney Houston!
I guess the best comparison I could make when it comes to Tragedy is this: Steel Panther are a parodied Hair Metal Band & the counterpart to Steel Panther would clearly be Tragedy which is a parodied glam metal band that plays Bee Gee's covers!
Lance is the bands roadie & he sports a white jump suit with his name written in sequins on his back and basically Lance's job is to wipe off the bands mics, guitars, armpits, toss out glitter & throw confetti...Lance clearly has the coolest job EVER!
I have to give a shout out to the lovely Liz A. who partied with me at this show, we shared a fun night of glam rock/disco together and I'm glad she was there to party with me!
If Tragedy plays your town and you can appreciate good musicianship while keeping an open mind to the fact that most of what the band does is done simply to make you laugh then go see Tragedy...they are a glitter soaked glam rock tribute to the music that killed rock n roll in the 70's.