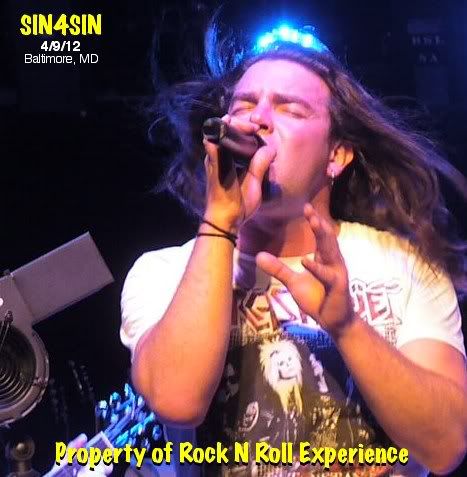 NOISE IN THE BASEMENT
Niki Barr / Sin4Sin
April 9, 2012
Baltimore Soundstage
This particular 98 Rock Noise in the Basement featured a 5 band billing but I was primarily there to see Niki Barr & Sin4Sin both of which have done very limited local shows lately so it was a nice treat to see both bands on the same show!
Sin4Sin played 3rd on the bill and the first thing I noticed was an odd contraption that sorta looked like a hair dryer on a mic stand. Once the band took the stage it became apparent what the contraption was...it was a small "hair blower" that blew out enough air to give the guys in the band the look of having their hair "flowing" in the wind. It actually made perfect sense in reality because Sin4Sin are a glam rock band so the blower onstage added a bit o' glam flavor.
Sin4Sin recently opened for Sebastian Bach when he played Ram's Head Live a few weeks back & the band debuted a new song at this show which they have yet to record.
"College F**ked Me" is my favorite from the band with "My Girlfriend Always Gets Arrested" as a close 2nd...Sin4Sin play a raunchy style o' sleaze rock that's got a touch of AC/DC mixed heavily with Crash Diet, Motley Crue & Poison.
What's always impressive about Sin4Sin is they bring a decent crowd to every show and I've had the opportunity to really watch this band blossom over the years....the original incarnation of this band was very different from what they are today.
Sin4Sin finished up their set and Niki Barr was next.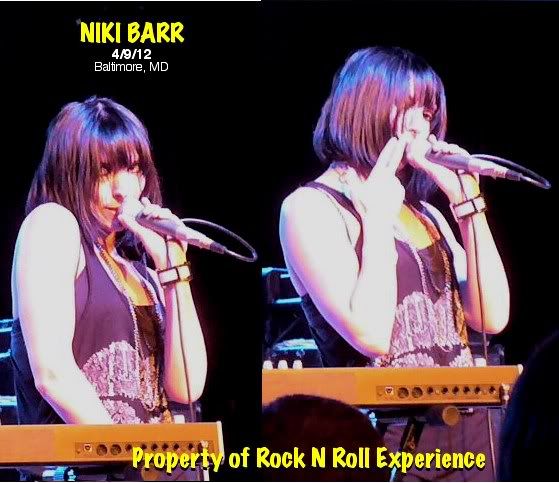 The Niki Barr Band has done extensive touring, they have a large amount of accomplishments under their belt and they always deliver a strong rock n roll show every time they take the stage!
The bands set was a little shorter than normal due to so many bands being on this bill and Niki took the stage to start the show with a slow opener that went almost instantly into a rocker right afterwards.
The Niki Barr band was on fire this night & the 4 members of the band work very well onstage together to create a solid rock sound that has elements of 80's metal, 90's rock & a touch o' modern pop which flavors the bands sound in a unique mold that makes The Niki Barr Band so distinctive!
Niki was using a Fender guitar this night that reminded me alot of the guitar Liz Phair is known for and Niki looked cool in her all black rock n roll attire: she had a giant kiss Lip print on her black tank top and the band also debuted a new song this night which sounded great!
The last 2 songs of the set were the ones that got the most reaction..."Closer" which is a NIN cover and "Sex Fiend" which rocked from start to finish!
There was a band that actually played after The Niki Barr Band & Niki joined the band for a cover of Nirvana's "Polly" but to be honest with you, it was hard to top the Niki Barr set!