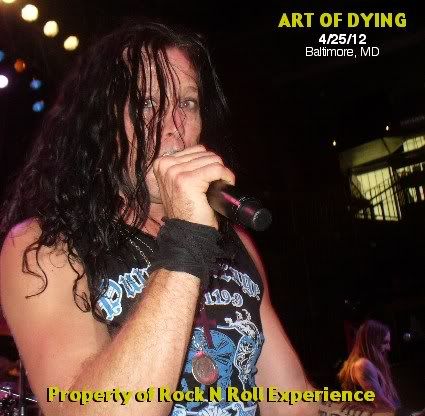 The 2012 Avalanche Tour
featuring: Shinedown / Art of Dying / Adelita's Way April 25, 2012
Ram's Head Live
Baltimore, Maryland
I'll start this review off by simply saying I do not like the fact that Art of Dying were the first band to play on this bill because Art of Dying are better than Adelita's Way in my opinion BUT because Adelita's Way have a few more radio singles it's simple logistics that they get 2nd billing under Shinedown.
Art of Dying are an interesting band because they play a style of rock that's very modern sounding yet they have old school rock looks and they actually look like rock stars onstage as opposed to some acts these days who have no real rockstar looks.
Singer Jonny Hetherington has a look and style that's just a tad bit similar to Stephen Pearcy from Ratt & the man has always been hard to photograph when he's onstage because he never stops running around the stage!
This particular show was the last night of the 2012 Avalanche Tour & if you hit up the merch tables you saw something quite interesting:
ALL tour shirts for the "Avalanche Tour" were clearanced to $10 & if you waited till after the show you saw the bootleg t-shirt hucksters selling counterfeit shirts for $5...even at that price people still didn't really seem to want those shirts BUT it was a good move to price them cheap so they might sell!
On the edge of the stage was white tape that read "WATCH IT!" & it's clearly because this is the stage where Glenn Danzig fell off.
The Art of Dying set was short & they made sure to do their trademark "Jack Daniel's bottle swing" just before they ended their set which was a tad over 30 minutes in length.
Adelita's Way was up next & I didn't even bother to watch their set because I've seen them several times & they bore me to tears. I did however watch the last few songs of their set in hopes that maybe the band could validate themselves a bit & prove me wrong....sadly they still did nothing for me. Their set was lackluster and their music was simply generic. The only thing I can say about Adelita's Way is that their singer could be Corey Feldman's brother and even that fact doesn't hold much clout these days!
The big stage was cleared by 9 PM and the major set up was revealed: strobes, tons o' lights, rows o' amps and the backdrop was the dead giveaway of what was next.... incase you had no clue this was a Shinedown show!
Brent and the boys played a set of mostly radio hit after radio hit with a handful o' new tracks tossed in to keep it fresh.
What I enjoyed about this show was that Brent kept his onstage babbling to a minimum. What I mean by Brent kept his babbling to a minimum is some nights the man will talk & talk & talk to a point where it gets boring! Phil Anselmo & Brent Smith are 2 guys who LOVE to ramble onstage sometimes and from a fans perspective, after you stand there for 2-3 hours waiting for the headliner to play their set you DO NOT want to hear 20 minutes of onstage rambling...stick to rocking!
Brent looked slimmed down, lean and his voice sounded amazing as always while the band laid down the musical soundtrack which accompanied all of Brent's vocals.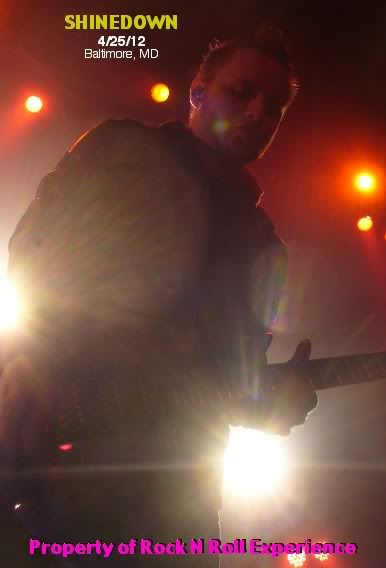 Zach, Eric and Barry might allow Brent to shine on every track BUT it's the band that really create the show as well because the 3 musicians onstage play hard! Eric switches from bass to guitar a few times throughout their set and Barry's a really solid drummer if you watch him close!
Zach's side of the stage is always easy to figure out because he usually has the Halloween mask behind him and if you managed to get an up close look at his mic stand you'd see his layers of guitar picks for this tour....Zach easily had 30 different guitar pick designs for this tour & each guitar pick had different pictures, messages & colors.
I remember talking to Zach last year & he told a story about how his first time onstage involved having Buddy Guy invite him onstage to jam with him & as a tribute to Buddy Guy Zach uses a Buddy Guy wah wah pedal.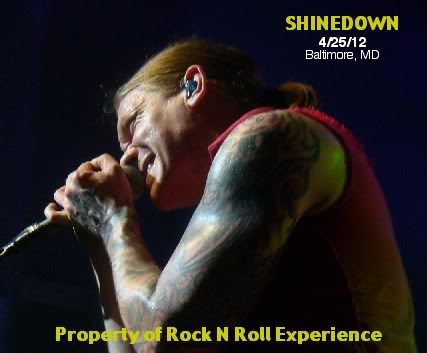 This show ended at 10:50 PM and it was a nice way to end the 2012 Avalanche tour but I will admit I was slightly bummed to see no jamming between bands since this was the last night of the tour. If you missed Shinedown on this run fear not, Shinedown will be on tour all Summer long as part of the 2012 Uproar Tour.
Shinedown Set List for 4/25/12:
Sound of Madness, Diamond Eyes, Enemies, If You Only Knew, Save Me, Devour, No Where Kids, Crow, Unity, Amaryllis, Adrenaline, .45, ENCORE: Bully, Simple Man, Second Chance, Fly