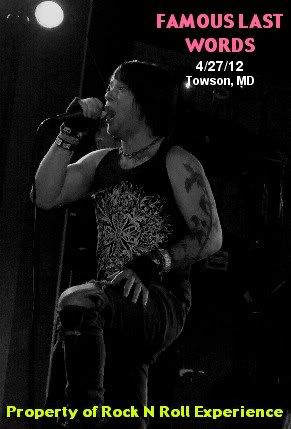 Famous Last Words / Phinehas
April 27, 2012
Recher Theatre
Towson, Maryland
Famous Last Words are a Michigan based band who's style of music is equal parts hard rock, metal & emo with a touch of pop, clean vocals & grinding guitars.
The bands current 2012 tour came to Maryland and at this stop on the tour there were a 1/2 dozen bands on the bill including national act Phinehas. I made it a point to show up late so I didn't burn out before the 2 main bands took the stage...with a 6 band bill it's easy to lose interest in the show if you have to see too many bands like that.
Phinehas are a California based band and this was my first time hearing their music...it took me most of the first song to realize they were good, they had chops, their drummer was flashy as hell playing wise & their guitar player had a good thrash metal style and he added good guitar leads to the bands music.
I won't downplay the fact that when I first saw the band I thought, "Wow, they all rock the 'staches!" because every guy in the band has a mustache and their looks might fool you if you simply see them before hearing their music.
The band kinda looks like a mix of Manowar meets Exodus meets Lamb of God BUT their music is heavy metal. The vocals are all screamo and that's where I think the band lacks a little depth because with the use of some clean vocals and maybe a little harmony here & there the bands sound could be even stronger than it already is!
Ok, so the band did impress me.... they did their job well and then it happened...they made me lose interest with one small break in their set!
The singer started to tell the crowd to never allow anyone to treat them bad or look down on them because they were different...the crowd seemed to like the message he was saying and then the singer went into a rant of how, "Jesus Loves You" & he started to preach the word of God to the audience. After his small preaching moment he then proceeded to give the devil horns hand gesture and that made me laugh my ass off because it was 2 opposites hand in hand and I don't think the band realized they sold their music perfectly up until that point...that was where I said to myself, ok, next band please!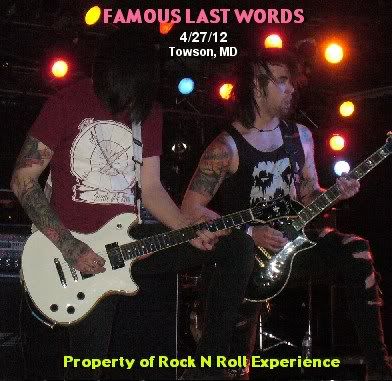 "The God Machine" was actually written in small print on the banners Phinehas had onstage and it baffled me why they made the type so very tiny yet chose to preach towards the end of their set...I have more respect for Stryper who atleast tell you up front that they are a Christian rock band so that way you know what you're getting into instead of being ambushed by someone's personal religious agenda!
Famous Last Words were up next & having worked with the guys previously I knew what to expect when the 5 members from FLW took the stage.
FLW played a short set that seemed to end almost as fast as it started and I say that because they played a solid set that sounded good! They played hard & if you ever listen to the bands current EP they sound just like they do on the record!
Drummer Craig Simons has changed his looks quite a bit since the last time I saw him and Tyler & Ethan hold down the guitar duties quite well while Jesse reminds me of a young Syd Vicious on bass & singer JT is the ring master of the band who draws in the crowd with his unique vocal ability & strong personality.
Famous Last Words set was powerful and to the point and that's the sign of a good band if you ask me!