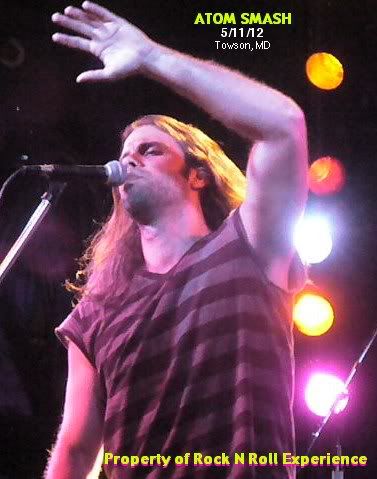 EDISUN / ATOM SMASH / SKITZO CALYPSO
May 11, 2012
Recher Theatre
Towson, Maryland
Atom Smash have achieved a decent amount of success via Sirius Xm's Octane channel but sadly the bands show on May 11, 2012 didn't attract a large amount of people and the show itself was plagued by equipment issues which gave the show a very human quality.
Maryland favorites Skitzo Calypso opened the show & the band sounded tight. They performed a solid set that included a killer cover of "My Michelle" by Guns N Roses and the funny moment in their set came when lead singer Brad Cox commented that there were more people at the Atom Smash show than there were for Dizzy Reed's show a few months prior at the same venue!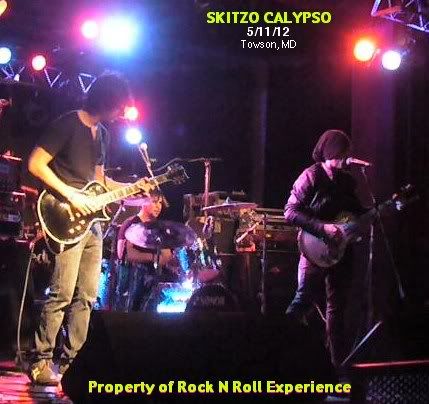 This comment was insightful because Skitzo Calypso opened for Dizzy Reed when he played Maryland recently & it was true that the local openers at this show did infact draw in more people than Guns N Roses keyboard player Dizzy Reed!
Edisun were the dark horse on the bill because I had heard their name before but never heard their music...this was where I was about to be floored because Edisun started their set powerful with an energy and presence that showed the band had paid their dues and were worthy of being on that stage!
Edisun took the stage and played their hearts out....they made me truly appreciate their ability to play music which was not pigeonholed by styles and labels. The first song of their set was a dirty bar band styled rocker that had a strong guitar tone and mixed 70's riff rock with 90's grunge ever so gently to create a simple sound that was very blue collar & working class sounding rock music.
I can't remember if it was the 2nd or 3rd song in the Edisun set but I heard an intro that sounded like "Helter Skelter" by The Beatles and I started to think, "Hmmmm, did they rip off The Beatles for this song or what?" and to my surprise Edisun did indeed play a really rockin' cover of "Helter Skelter" which was the perfect cover for the band to perform because it showed their range, style & it was an affirmation that the breed of rock they played, atleast in the first 1/2 of the set, was rooted in the pivotal originators of rock n roll.
Midway through the set I was impressed to see and hear the band change tempo a bit and their music slowly progress to a more 90's style and the band toned back the grit that made me feel like I was watching a well oiled bar band and they transformed their sound into a melodic style that was still very guitar driven yet showcased the singers really strong vocal range & ability.
Edisun are well worth checking out if you enjoy good rock n roll that's performed 100% live with no backing tracks & no backing vocals...it's just simple rock music played loud!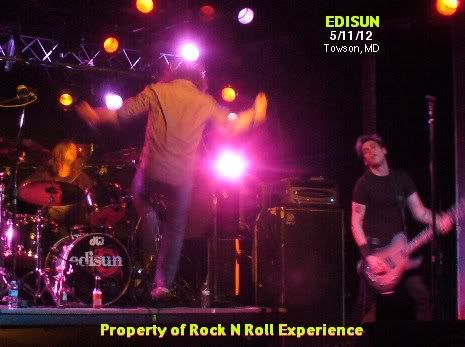 Atom Smash were up next and by the time they took the stage it's sad to admit but most of the crowd had left!
Atom Smash were an odd looking band & I'll break their looks down like this:
The guitarist Cowboy looked like a messy metal dude
The singer Serg looked like a surfer
The drummer Taco could have been in Miami Sound Machine
The bass player Crazy Dave looked like he just got done playing Soccer
For the record I think Atom Smash shine brightest when you see them perform live because their record is not as heavy as their live show! The record comes off watered down in parts and the bands live show is not that way at all!
"Hey Man, Nice Shot" was the 2nd to last song of the night & it was an interesting cover for the band to perform because they altered lyrics to their own liking and to correlate things just a bit, I saw Filter play this same club last year and even Filter suffered from low attendance at this same exact venue!
Atom Smash had a few technical issues including multiple guitar strings breaking & a drum cymbal falling apart in mid song!
Usually a guitar string or 2 breaking is no big deal but on this tour the band only had one guitar on the road with them so when they broke guitar strings they had to do an impromptu jam with just vocals, bass & drums so they could change the broken strings.
All in all it was a fun night of music and I'll say for the record...if you have never heard of Edisun please check them out because they really did impress me with a kick ass live show that made me an instant fan of the band!