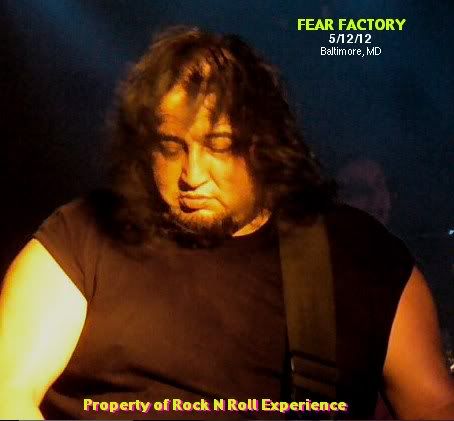 FEAR FACTORY
May 12, 2012
Sonar
Baltimore, Maryland
Burton C. Bell & Dino Cazares ARE Fear Factory & it's interesting to note that I used to always view Fear Factory as a band until the band went through a few line up changes and became what it is today.
I remember when Dino left the group initially & Christian switched to guitar the band seemed to go in a darker direction and I almost felt like they touched on goth elements a bit whereas when Dino came back into the fold the music went heavier and oddly enough the original rhythm section was dismissed for totally new guys and to be serious with you, you can't even tell there's a new drummer & bass player in Fear Factory because the key elements soundwise in Fear Factory ARE Burton & Dino!
Burton commented on stage that this particular tour had been a rough one and Shadow's Fall had to drop off the tour...regardless the crowd received a sonic dose of metal from Fear Factory and all the openers on this tour.
Dino made me laugh when he joked that when the first record came out he was like 100 lbs thinner!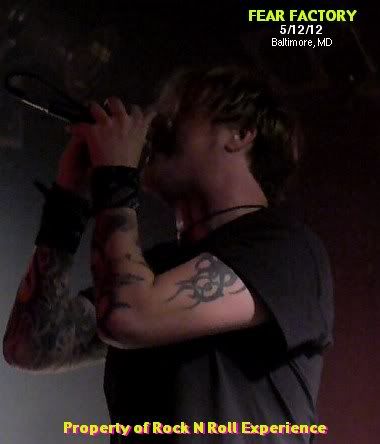 One new song was played in the FF set & it's from the "Industrialist" record which comes out June 5, 2012...the song sounded like everything you'd expect from Fear Factory....chugging guitar riffs, fast beats & Burton's trade mark vocals that go from aggro to melodic.
What you notice when you see Fear Factory live is that most of the bands Dino era music is interchangeable and the nights 73 minute set came off like on giant continuous song if you allowed the small breaks between songs to blur just a bit.
Burton's voice was scratchy & his voice cracked quite a bit when he would address the crowd between songs....welcome to life on the road!
Matt DeVries on bass added a major amount of energy onstage and I was very pleased with his performance while new drummer Mike Heller held down the beats superbly but was almost invisible in the back of the stage and this was due to the very dark lighting which was used for most of the show.
Burton was actually very cool to the crowd & when a kid asked him to autograph his CD Burton actually stopped to sign the cd before starting the next song in the set and one thing I will address is the low crowd turn out.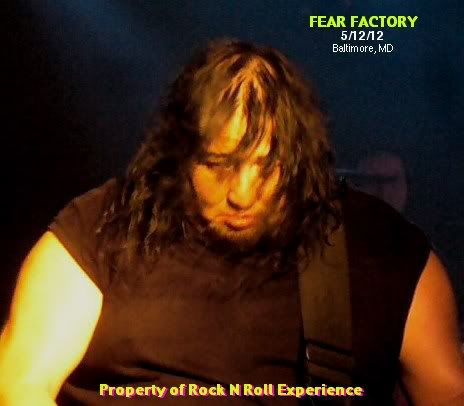 Fear Factory could always draw a decent sized crowd but on this night the crowd was small and I'll guess there was less than 150 people there give or take...regardless of the size of the crowd I give it to Fear Factory because they played a tight set & gave the people what they paid for!
Set wise the band played new & old material..."Edge Crusher" sounded sharp & pardon the pun, but crushing! I ventured over to the merch table to see an interesting assortment of stuff for sale including autographed Shadow's Fall cds (despite tha band dropping off this show), autographed Fear Factory vinyl & Dino guitar pick sets....the cool thing was they kept the prices reasonable and most shirts were just around $20.
Fear Factory took the stage at 11 PM & were all finished by 12:13 AM.