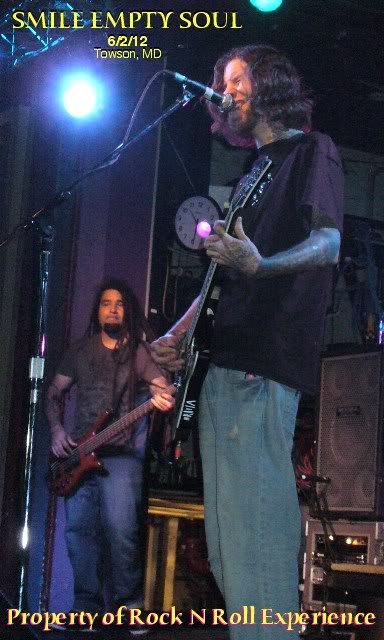 SMILE EMPTY SOUL / IONIA
June 2, 2012
Recher Theatre
Towson, MD
It's always funny how people romanticize the past because for every good memory of a time gone by there's almost always an equal amount of bad memories which are often discarded, suppressed, or forgotten about.
The 90's was an era of the anti-rock star where dressing up & looking cool was considered un-cool and bands like Nirvana, Soundgarden & Pearl Jam relied more on their song writing as opposed to their looks although the media DID find a way to market the anti-rockstar look via Kurt Cobain's flannel, baggy jeans & dirty hair. You might be asking yourself,
"Why did he start this review off by talking about the 90's grunge scene?!"
The reason is simply because when Sean Danielsen from Smile Empty Soul took the stage I remembered WHY the 90's style was so bland & boring....Sean was wearing a pair of jeans several sizes too big which kept falling down, his shirt was way too big for him & his hair was in dire need of washing....it was the Kurt Cobain look in 2012 which was fine in 1994 but in 2012 it was outdated & made you feel as if you were stepping back in time to relive 1994 all over again!
The irony is that Smile Empty Soul didn't even form until 1998 and their biggest hit came out in 2003 so the band was technically NEVER a part of the grunge scene to begin with although they borrowed heavily from that scene and if you didn't know any better you'd swear they were a part of the mid 90's grunge era.
A stock pile o' local bands opened this show including local favorites Cyrenic & it wasn't until after 9:30 PM that the first national act took the stage. Ionia were direct support on this tour & that was due in part to The Veer Union dropping off the tour billing. Ionia are a New York based rock band who's style is a mix of modern rock coupled with epic and at times atmospheric tones which paint a complex sound over the rock elements and they reminded me of Me Talk Pretty a bit because both bands have a style that I call the "New-New York Sound".
Smile Empty Soul are touring in support of their most recent release "3's" and were the nights headliner. They played a solid set that was just a little over an hour in length and the interesting moments in their set were as follows: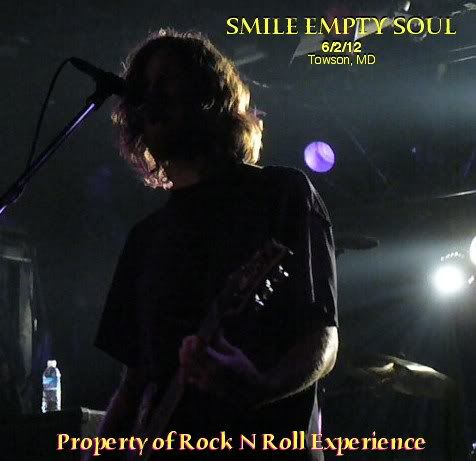 Sean used the same guitar for the entire show, he never switched guitars at all throughout the set and even when he changed tunings for different songs he simply made minor adjustments on the same black sticker filled guitar for the entire show.
Towards the middle of the set there was a heckler in the crowd who yelled something negative to the band and bassist Ryan Martin got very agitated by the comments & yelled back to the guy that everyone was there for a fun time and NOT to fight or be mean...I'm not sure what the heckler said but it must have been rude for Ryan to address the matter.
The middle of the set was where the band played their biggest hit, "Bottom of a Bottle" which was followed by a cover of S.T.P.'s "Interstate Love Song" and to be honest with you I think that was a mistake because that should have been the bands last 2 songs of the night. Playing your best 2 songs in the middle of the set is a mistake because then people can leave early once they've heard their favorite songs and I've always thought that a band should end on a high note. End with your best material, close with the songs people know & love so they walk away remembering the "hits". Let's face it, you're only remembered for your last performance and if you end with your biggest hit then the people in attendance will remember you on a high note as opposed to possibly not remembering you at all simply because they might not know the obscure song you closed with.
Smile Empty Soul bridge the gap between Nirvana, Seether & Puddle of Mudd quite well and it's sad that the band didn't achieve the same success that Seether did because there was one song in the set that was almost identical progression wise to Seether's first big hit.