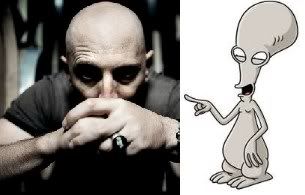 PUSCIFER
June 15, 2012
Lyric
Baltimore, MD
Leaving this show I walked away feeling exhilarated. I had just seen a multimedia counterculture explosion set to music and it was the primary brain child of that Alien who sings for both Tool & Aperfectcircle, Maynard Keenan! You might ask yourself why I called Maynard an alien & it's a partial joke which I'll explain like this:
If you ever watch the Fox cartoon "American Dad" there's a character on the show named Roger who essentially is a character that's based loosely after E.T. & Maynard. I realized the Maynard connection when I witnessed the Puscifer show this night because Maynard created many different characters which make the Puscifer experience a reality. Maynard wears numerous costumes, wigs, etc., and throughout the show you see movies shown on numerous screens which portray Maynard as everything from a redneck to a woman and he sells each role with a very tongue in cheek, dry sense of humor that's identical to what the character Roger on "American Dad" does in every single episode!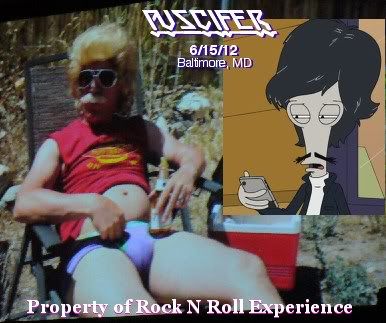 Infact, there's many references to "aliens" in the Puscifer show and some alien references are simply jokes about non-Americans while other "Alien" references are about flying saucers & tiny green men which ties in with the American Dad reference quite well, not to mention that Maynard & Roger DO have strikingly similar features on some levels!
Being granted photo privileges at this show was a treat because Maynard had a very strict NO camera policy & it was enforced throughout the show. I was granted access to take pics during the 3rd & 4th songs of the set & immediately following the 4th song I had to leave the venue and place my camera in my car so I missed about 10 mins of the set. My lack of good Maynard shots is simply because the man was all the way in the back with no lights on him while I had access to photograph but I feel like my photo's sum up the show pretty well.
Now, with all that info out there I'll describe the show itself for you like this: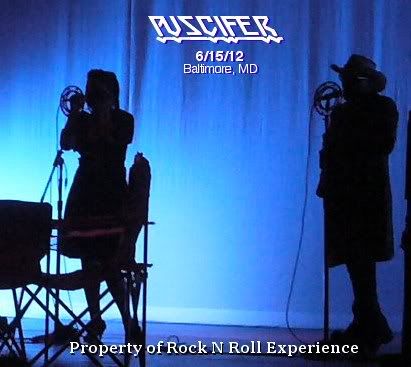 There was a movie which set up the "Puscifer" experience but I missed the bulk of it. What I did see of it was entertaining and it reminded me alot of the Stephen Colbert/Amy Sedaris book "Wig Field". The show started with the stage being totally empty & Maynard came out pulling a camper behind him. Maynard introduced himself & chatted with the crowd for a bit while setting up the stage & explaining that the best setting for the show would be the desert and he proceeded to pull out a barbecue grill, lawn chairs & his band one by one took the stage and set up their gear. Maynard went to the side of the stage to pull out another trailer that had a drum kit on it and then the music started.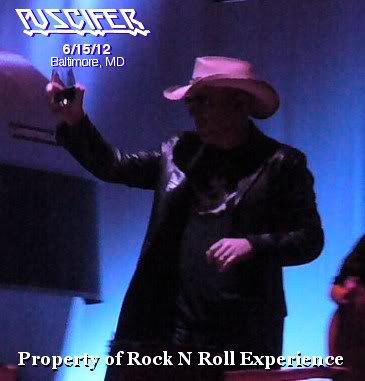 The set up to the show reminded me of Charlie Brown's spoken set up during the "Charlie Brown Christmas" cartoon. There were many, many things all happening at once when the show started & no matter what you chose to watch you were treated to an entertaining show! There was a large movie screen playing movies in the background, each band member played their parts with passion & intensity, there were 2 smaller TV screens on each side of the stage which showed different visuals, movies & images and throughout the night Maynard filled each band members glass of wine with what I'm assuming was Maynard's own vanity vineyard brand.
Maynard did allow the audience to see him from time to time up close because Maynard would walk about the stage but for the most part he did remain in the back behind the drum kit and he kept his face hidden under a cowboy hat & sun glasses.
The entire band was dressed in all black dress clothes while Maynard came out wearing a black leather trench coat with shades, a cowboy hat & blue jeans that had white threading which made him look kind of like a white pimp cowboy.
The show itself was weird rock n roll theater, it had jokes throughout, many different themes, many different moods and emotions, layers of feelings that ranged from goofy to retrospective and the best way I can describe this show was that it was an experience!
Maynard's voice sounded superb & the acoustics of the venue brought the music to life....in all honesty this was the best sounding rock concert I've EVER heard because this venue has amazing acoustics!
"We put the PANIC in Hispanic" and a joke about how "Steven Tyler & the Kardashian's were all aliens because they looked the same" were just 2 of the many slogans that adorned the screens throughout the night & I really hope Puscifer professionally films one of these shows because there's no possible way I can sum up the overall experience of this show, I did my best to explain what I took away but my experience was probably different than what other's experienced...a Puscifer live show is a MUST SEE for those who enjoy art, music & have a sense of humor!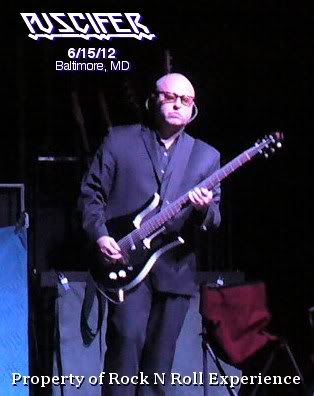 I will close this review by saying that my favorite visual aspect of the show was when the polka dots expanded & contracted behind the band on the large movie screen...on a visual level, watching that alongside the music the band played was simply amazing & trippy as hell!