SOULICIT
June 16, 2012
Rams Head Live
Baltimore, MD
When Soulicit came to town I decided to do a piece entitled "10 Things About Soulicit" and the premise for this piece is simple....I chatted with lead singer Darick Parsons a bit & caught their live show and here's 10 random things about Soulicit:
1. Darick: "We just recently had a line up change and we brought a couple of new guys in so this current line up has been together for like 3 or 4 months so we have a new fresh look & stage presence. Kevin is the new guy on bass & Roll is on guitar."
2. In regards to what happened to the previous members of Soulicit & why they left Darick said, "It's just personal stuff, they decided to move on & we wish them the best & we are going to continue being Soulicit.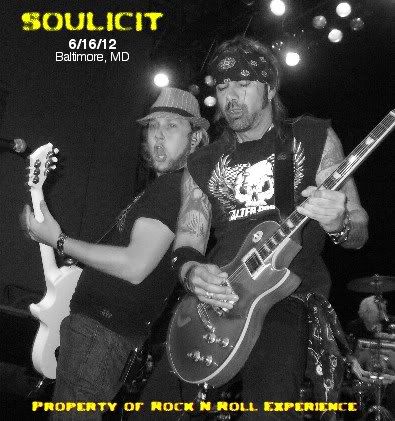 3. On the topic of whether or not the name Soulicit might confuse people with what style of music the band plays Darick said, "At the time when we picked the name I didn't think anything about that but that's actually exactly what's happened alot, people will say they saw our name on a sign & thought we was a soul band and I'll say well we are, I don't think that soul music has to be a specific genre, it doesn't have to be Motown. To me I play rock n roll but I pour just as much of my soul into that as anyone else does.
4. On the topic of shows Darick said, "We've done 98 Rock Fest in Charleston and Sevendust & Halestorm headlined that, we did Rocklahoma which have a couple thousand people out there."
5. Darick described Soulicit as "American Hard Rock, we are just straight up, kind of a blast from the past old school rock with a new school twist on it. It's straight guitar driven, catchy chorus, American Rock N Roll."
6. During their live show this night they did an Aerosmith medley which featured Dream On, Angel, Sweet Emotion, Come Together, Same Old Song & Dance, and Walk This Way.
7. "Complicated" got the best audience response and the band announced that it would be their 2nd single off the new record.
8. "Carolina Shine" is a brand new song the band recently wrote & they've yet to record it but they did perform it this night.
9. The bands new bass player Kevin used to tech for Framing Hanley.
10. The band closed their set with "Gimme Shelter" by The Rolling Stones on this night.