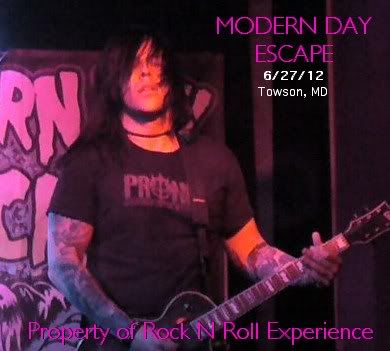 MODERN DAY ESCAPE / DR. ACULA / BUNNY & BEAR
June 27, 2012
Recher Theatre
Towson, MD
This was a 7 band billing and doors opened at 6 PM so one might assume this show would run late since most rock shows tend to start later than the time listed and also because there were so many bands on the bill...right?! WRONG! The show started shortly after doors & it was totally over by 10:45 PM!
I arrived just before Bunny & Bear took the stage and the venue had a nice turn out considering none of these bands were major headlining acts...the crowd was primarily under 21 years of age and it was rare to see any alcohol consumption amongst this crowd! Bunny & Bear were not the nights headliner but clearly they should have been because the entire crowd was clearly there to see the 2 masked men do their thing!
Bunny & Bear are a weird mix of hard rock with sampled noises & loops...they are not quite as cool as Mindless Self Indulgence yet they do have a style that's somewhere in that range with the exception that B&B have NO Hip Hop influences for the most part in their music.
I was under the assumption that there was some technical difficulties with the Bunny and Bear set because they literally did a 25 minute set & that was it! The kids clearly wanted more and I assumed there was some "issue" which made the band cut their set short but when I glanced at the set times it clearly stated Bunny & Bear had 25 mins to perform!
When the masked duo were finished up it's sad to admit but the bulk of the crowd left & it's safe to assume that it's because they all have curfews & if you walked outside you saw parents picking up their kids...I mean quite literally I heard a young girl walking out the door say, "Hi Daddy!" & my mind can only hope that it was her real father & that wasn't her nickname for her sugar daddy! (ha ha)
Dr. Acula were next and the bands set was 30 minutes long with little or no breaks between songs; the band pummeled through a few new ones & a few older ones with a careless feeling of discontent.
Dr. Acula's music was loud, angry & to the point...there was no beating around the bush, the band doesn't write love songs, they write pissed off heavy music and the crowd managed to build a small mosh pit through some of the bands set but clearly the crowd had thinned out alot since Bunny & Bear.
The thing I will point out is the tattoo on the main singer for Dr. Acula's face...that's some hardcore tattooing there because it's not something tiny!
Modern Day Escape were up next & they had a 45 minute set planned for the handful o' peeps left in attendance and my first assumptions about the band when they took the stage were:
1. I was happy to see one guitar player wearing a PRONG shirt because PRONG are such an underrated band that the kiddies don't really know about these days!
2. I was happy to see a band that dressed up a little & acted like they wanted to be rock stars!
3. I was pleased with the bands guitar tone which sounded clean
4. The songs were a mix of modern heavy rock & metal which was pleasing to my ears.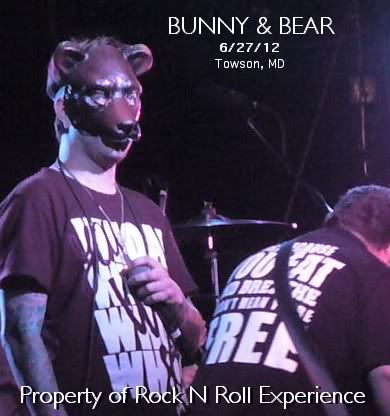 I didn't know if I really cared for Modern Day Escape until maybe the 2nd song of their set when 3 or 4 girls tried to sneak up front & sit on the inside of the barricade...the bands singer immediately yelled "No Way!" & he was clearly pissed off about this...he started yelling that it was a rock show & NO ONE sits down up front...he demanded the girls be kicked out of the barricade & then a few songs later he took a bottle of water & doused the front of the crowd & declared, "I'm an asshole & just soaked you guys with water...do you know why? Because I'm better than you!"
In my mind I instantly fell in love with this guy because he wasn't an emo pussy, he was cut from that asshole metal dude mold where he was cocky, a bit of an ass, BUT he made me respect him!
During another moment in the set he asked the crowd if they'd ever seen a really impressive rock show? The crowd replied yes & he asked them what bands they really enjoyed? Someone yelled out "Motionless in White" & then he yelled back, "Motionless in White? Really? I guess you haven't been to many shows because they are not that great, I mean they are ok, they're good guys but that's not what I'm talking about when I say a good rock show!"
Then towards the end of the set the band did an older song that they said was their most "Old school Metal" styled song they ever wrote & then the bands singer chimed in that it was a song that might make the "Motionless in White" guy happy!
I don't know, I was mildly bored with most of this show simply because the crowd & the music was a bit off but when Modern Day Escape took the stage it was like a breath of fresh air!