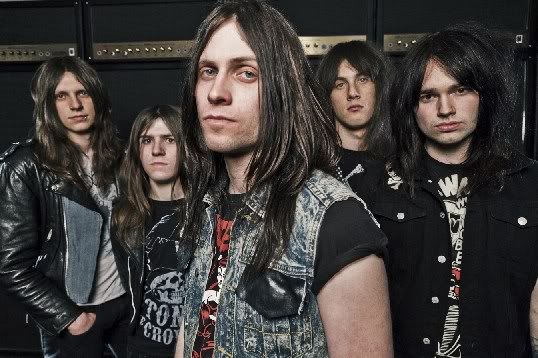 UK based The Treatment are a 5 piece rock band who recently got named as the official openers of "The Tour" which features KISS & Motley Crue.
The Treatment are a throw back to old school riff rock & they will be tearing up stages all across the USA this Summer. To wet your appetite for the opening night of "The Tour" which kicks off on July 20, 2012 in Bristow, VA, here's an interview with The Treatment's drummer Dhani.
Rock N Roll Experience: Going into the KISS/Motley Crue tour, what are your expectations for the tour?
Dhani: We just really hope that our music connects with the US rock fans. America is the place that all young UK bands would love to play and we are going to give it 100%. We realize that no one has ever heard of us before and to open for two giants like Kiss/Motley won't be easy but I hope we do well.
Rock N Roll Experience: Do you like pop music?
Dhani: Yes, I like all music as long it has a good song attached to it. We are very influenced by The Doors and the Beatles so good pop can be great.
Rock N Roll Experience: After the KISS tour will there be a Treatment headlining club tour?
Dhani: Yes there will be, on our return we are going on a UK tour with Thin Lizzy, then early next year we will start a full headline UK/Europe tour we are just starting to do well in Europe so we are very excited about that.
Rock N Roll Experience: Do you enjoy playing outdoor shows?
Dhani: We have only played a couple of outdoor shows but we had a great time. We haven't played anything as big as the US dates.
Rock N Roll Experience: The Treatment has a classic rock sound, do you like modern rock?
Dhani: Some, but they tend not to have much song content. I prefer classic song writers.
Rock N Roll Experience: Many drummers do programming & electronic music, do you ever go into that area music wise?
Dhani: No, I like natural sounding drums. I don't really like the sound of programmed drums. I like the human element.
Rock N Roll Experience: What made you want to play drums?
Dhani: My Dad is a guitar player and he bought me a guitar first, but I was drawn more to drums. It kind of chose me; I loved pretending to play along with AC/DC when I was about ten, and it started from there. I would make a drum kit up from things in our front room until one day my Mum said to my Dad, "buy him a kit, he's breaking all the furniture".
Rock N Roll Experience: Tell me a random fact about yourself.
Dhani: I don't like loud egotistical people. I prefer ordinary folk.
Rock N Roll Experience: The music business has changed so much at this point, do you ever find the business end of rock n roll to be depressing?
Dhani: Not really. My Dad, who also our manager, deals with all the business side of things. We just get on with the music so I don't get too much exposure to it and I'm happy with that.
Rock N Roll Experience: Do you think Queensryche kicking Geoff Tate out of the band was a mistake?
Dhani: Losing an original member and a creative force is always a mistake. But unfortunately egos and money seem to bring these situations up all the time. Fame is the enemy and most bands seem to get on well until it rears its ugly head.
Rock N Roll Experience: Is there anything else you'd like to add?
Dhani: Please show up early to the Kiss/Motley Crue dates so you can catch us, and we hope you enjoy our show!
Be sure to catch The Treatment all Summer opening for "The Tour" featuring KISS & Motley Crue!
Click here to "Like" Rock N Roll Experience on Facebook