SAVING ABEL / FALL FROM GRACE
July 13, 2012
Ram's Head Live
Baltimore, MD
Friday the 13th, the day superstitious people freak over and it's also the day that Saving Abel came back to Baltimore for a Friday night rock show that featured Seattle based Fall From Grace as openers.
The crowd was small for a Friday night and it's a no brainer that Saving Abel didn't have the fan base in Baltimore to fill Ram's Head Live yet the show went on regardless and after 2 local openers played short sets the "national" acts started when Fall From Grace took the stage at 9 PM with a set that was pretty much straight forward pop/punk. The band had tons o' energy onstage & gave the crowd a good rock show but the noticeable thing about the band was their age range. The members of Fall From Grace played a style of music that you could easily see/hear on the Van's Warped Tour yet they were clearly in their mid 30's or older which made their presence onstage clash with their music just a tad and that's not me being harsh, that's me just telling the truth!
Saving Abel had a really simple stage set up with a large Saving Abel banner behind them and randomly throughout the night the bands singer allowed his little girl to dance on the stage with him which stripped away some of the "big rock" feel and created a more family oriented atmosphere.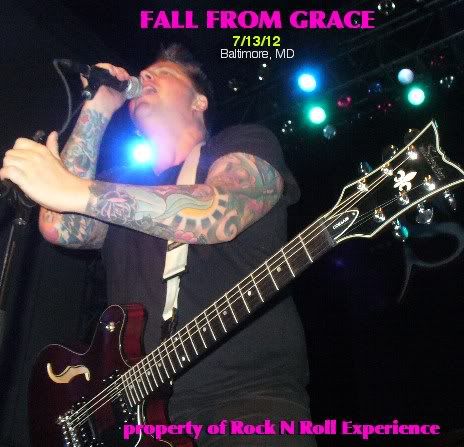 The Saving Abel set opened with a brand new song from their forthcoming record and the first thing I noticed was the band had a new drummer who took the stage wearing an Iron Man mask! The new drummer didn't really make much difference music wise because the band was exactly the same with the new guy on board and the only major differences in this show compared to previous tours were 2 things:
1. During "New Tattoo" Tryg from Fall From Grace came out & sang with Saving Abel.
2. The band did an unplugged set that featured "Have You Ever Seen The Rain" by CCR, "Simple Man" by Skynyrd & "Sex Is Good". I won't lie here, Shinedown's cover of "Simple Man" blows the Saving Abel cover away! Sorry but that's a fact!
The show was ok, it was a reflection of what modern rock is like at this point & Saving Abel has always been a guilty pleasure of mine so all in all it was a decent Friday night and the fact that I met some really cool girls throughout the night was an added bonus!
I'll end this review by saying "hey!" to my new friends Kelly & Paula!