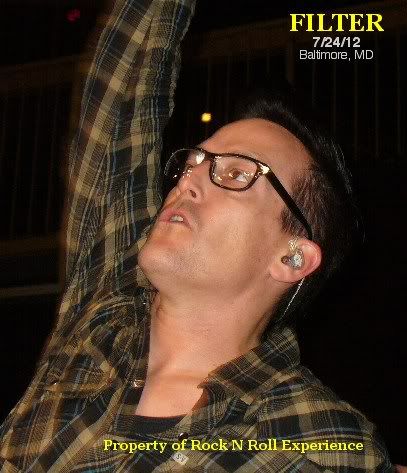 FILTER / FUEL
July 24, 2012
Rams Head Live
Baltimore, MD
I'll start this review on a personal note:
A new Fuel, A new girl....life is so much better when you're happy!
Fuel & Filter on the same concert billing in 2012 is interesting because both bands consist of only one original member in each band & that original member happens to be the lead singer.
Brett Scallions and his new version of Fuel played after 2 local bands opened the show. The venue had a small crowd and what was interesting about the crowd was regardless of how small the turn out was, the crowd that showed up were die hard fans who sang every word to every song & in some cases screamed non stop throughout the show!
Fuel's new line up sounded pretty good and they played a tight set. The band played great but looks wise they were mismatched because Brett had the post grunge look, Ken played the drums sporting a beanie cap & a RUN DMC shirt, Brad rocked the dreads & Andy Andersson on lead guitar looked like a cross between a cleaner Zakk Wylde meets Cousin It!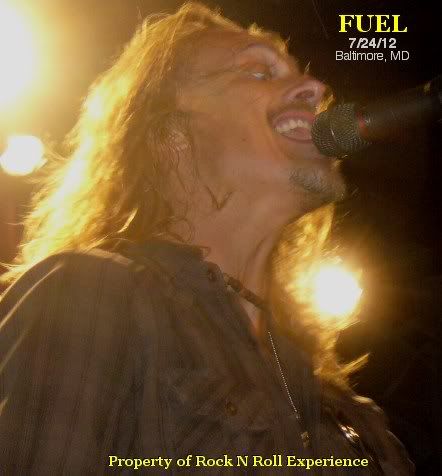 "Shimmer" got great crowd response & I actually forgot that Fuel had several top 10 radio hits until they started to play songs like "Bad Day", "Falls On Me" & "Bittersweet" which made me go, "Oh Yeah, I forgot about that song!"
"Hemorrhage" was the nights closer & definitely the song that got the biggest reaction from the crowd; almost everyone was singing along, dancing around & having a blast from the 90's past!
I had an absolute blast during Fuel's set & it was definitely due in part to the company I kept on this night!
Interesting side note to the Fuel set was midway through their set they did a Lynyrd Skynyrd medley that included a good portion of "Free Bird" and riffs from "Sweet Home Alabama" with a few other licks from other Skynyrd songs mixed in.
Filter took the stage at 11 PM and their set was not overly indulgent... there was little filler and the band played a set that was just around 70 minutes long with an encore that saw Brett from Fuel taking the stage with Filter to cover "War Pigs" by Black Sabbath!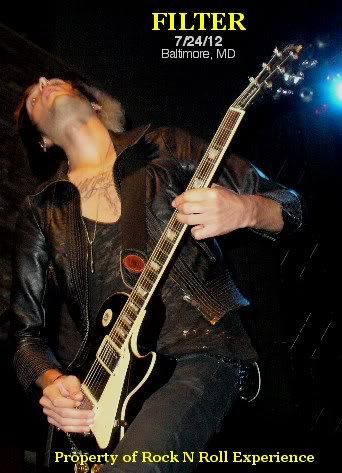 I was slightly confused as to whether or not Richard Patrick was upset at times onstage or simply messing around because he threw his mic down violently at one point, he seemed annoyed by his amp levels and he came off as being upset at times yet his angst was short lived.
There were moments throughout the show where Richard made comments like he loved doing drugs and that made me wonder if he wasn't talking down to the crowd a bit & during "Trip Like I Do" Richard jumped into the crowd for an impromptu crowd surfing session while he sang the song from the crowd.
Former Kill Hannah guitarist Jonathan Radtke adds alot to the Filter live show but his glam looks somehow seem out of place with what Filter is all about yet Jonathan's guitar playing is personified with Filter and what I mean by that is, in Kill Hannah the guitar parts were minimal whereas with Filter there's a bit more heaviness & Jonathan seems to be more suited playing wise to Filter.
"Jurassitol" was dedicated to old people who like to f**k young people & he referenced a certain coach who was recently sent to jail for molesting young boys for many years.
All in all it was a great night to see 2 top notch 90's bands that had a decent amount of success in their prime.
FUEL Set List:
Last Time, Empty Spaces, Prove, Jesus or a Gun, Never Be The Same, Untitled, Bad Day, Sunburn, Shimmer, Bittersweet, Headache, Innocent, Falls On Me, Hemorrhage
FILTER set list:
Welcome To The Fold, The Take, No Love, Jurassitol, Trip Like I Do, Take A Picture, Dose, Soldiers of Misfortune, Best Things, So I Quit, Hey Man Nice Shot
Click here to "Like" Rock N Roll Experience on Facebook
An extra special thank you goes to Mr. A. Hell for his help.