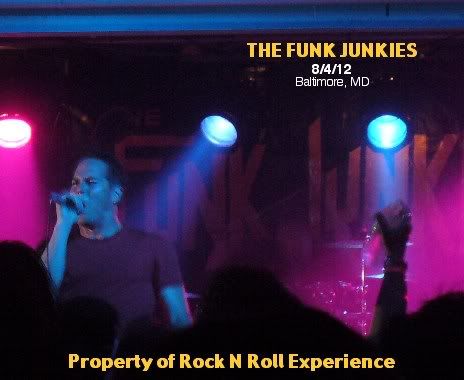 FUNK JUNKIES Reunion
August 4, 2012
House of Rock
White Marsh, MD
The Funk Junkies were a local favorite in the Baltimore Music Scene circa 1993 and when the band decided to call it a day a decade ago they left a rather large void in the local Maryland rock scene.
Flash forward to 2012 and the Funk Junkies played a one off reunion show at the newly re-opened House of Rock in White Marsh, Maryland on August 4, 2012 and I'll admit that the main reason I went to this show was because someone special had invited me.
The crowd that attended this show clearly loved the band back in the day and if you showed up late you had to scavenge for parking because the clubs parking lot was packed tight!
The Funk Junkies took the stage just after 11 PM and played a 2 hour set that consisted of original tunes and several well known covers including, "God of Thunder" by KISS, "Play That Funky Music" by Wild Cherry, "Brick House" by The Commodores, and "We Care Alot" by Faith No More.
The band utilized confetti cannons during 2 different parts of their set and the thing with small confetti cannons is that they always fall flat compared to what BIG bands use in their live show....I've seen a few local bands use small confetti cannons and they always come off cheesy.
To my surprise the band still sounded great, the vocals were strong, the rhythm was tight & the guitar tone was perfect! "Blow My Mind" was the closer of the night and that was the song I knew from the band because it actually did get some radio airplay back when they were still together.
All in all it was a fun show and it's interesting to admit that in 2012 the music of the Funk Junkies still works quite well with maybe a few lyrical exceptions which show a bit of goofiness.
Click here to "Like" Rock N Roll Experience on Facebook