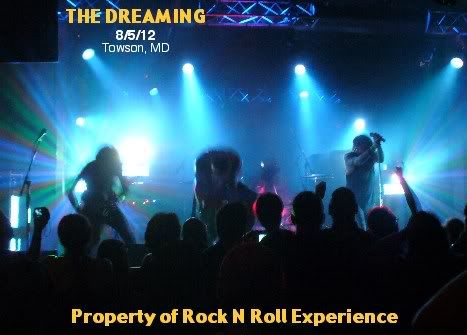 THE DREAMING / 12 STONES / Blameshift
August 5, 2012
Recher Theatre
Towson, MD
"If I Must Be Lonely, I Think I'd Rather Be Alone." Lyrics from the song "Save Yourself" by Stabbing Westward and a song that The Dreaming closed with when they opened for 12 Stones on this night.
To present an honest review of this night I'd have to start off with the fact that my partner in crime Michelle & I arrived shortly before Blameshift took the stage and I had high hopes for Blameshift based on what I'd read about them in the media BUT when the band took the stage I was let down with their music which was essentially them playing along to a track and at any given moment the band members were not even playing while music was still heard. I know it's a common thing for bands to use backing tracks these days but it cheapens the live experience when you go to see a LIVE rock band, I mean with The Dreaming it's expected that there will be pre-taped music throughout their set based on the fact that they mix Industrial with Rock & Dance but for Blameshift....it was a let down.
Blameshift's singer is a blonde version of Snooki from Jersey Shore and her vocals were slightly annoying at best but for what it's worth I do believe Blameshift could do decent on the Warped Tour because they are female fronted & some guys will get excited that there's a female onstage.
The Dreaming were next on the bill & this was the best part of the show in my opinion because The Dreaming's live show is very visual, dark & edgy.
The light show The Dreaming carry with them is part rock show, part rave and that's one of many things that make the band so interesting....you could easily please the hard rock fans as well as the dance club kids with a Dreaming live show and it's because the music & live show mix both together quite well!
The Dreaming is fronted by Christopher Hall who used to front Stabbing Westward and during the set they played the 3 most well known Stabbing Westward songs which included "What Do I Have to Do?" & "Save Yourself" as well as a Depeche Mode cover "It's No Good" which was played much darker than the original.
The Dreaming could have easily headlined this show because when 12 Stones took the stage the night went down hill other than the fact that we had fun commenting on random things throughout the set like when a guy brought a Darth Vader life sized cut out into the pit and when 12 Stones brought a child onstage to sing/play guitar with them.
12 Stones are an ok band, they do what they do and I can respect them for that but they also bored me with their very generic riffs which were simple, to the point and average. It almost felt like parts of the 12 Stones set was so loose that the show began to drag on in pieces and it was clear that The Dreaming blew 12 Stones off the stage this night.
Driving home Michelle & I had fun laughing at random things from the show and we both agreed that The Dreaming were really good while the other national bands on the bill were lame.
Click here to "Like" Rock N Roll Experience on Facebook