OTEP / BUTCHER BABIES
August 21, 2012
Rams Head Live
Baltimore, MD
This night was plagued by bad situations and I was fortunate enough to arrive in time to check out the Butcher Babies who's set is best described as a proper mix of boobs & blood!
Butcher Babies refer to their music as Slut Metal & I don't know if that term is proper or not because music is 2nd to the bands boobs & blood which is all you'll remember if you ever see Butcher Babies live show.
I did enjoy the Butcher Babies set for what it was...it was a fast paced, a swirling sex romp that was part Misfits, part Wendy O Williams with the live show being what this band is ALL about!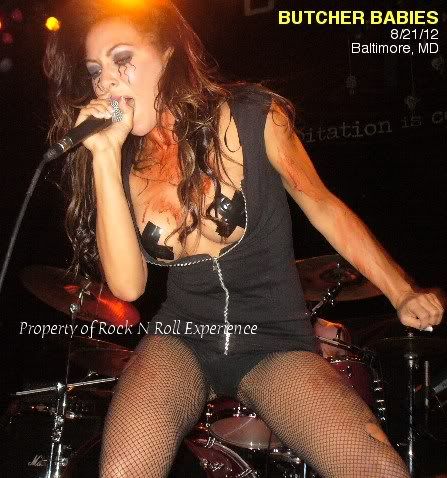 I did see a woman dragging her 2 small children outside when Butcher Babies took the stage & that pretty much sums up what a GOOD parent should do if they attend a Butcher Babies show....this band is NOT for small children because the show is very adult oriented and like I said, it's all boobs & blood...the music was ok but easy to not even notice if you saw Heidi & Carla do their thing onstage.
For what it's worth I'd tell every rock music fan to go check out a Butcher Babies live show just to say you experienced it because Carla & Heidi are VERY entertaining doing what they do onstage, not to mention they are super cute, BUT, for me I still prefer my Michelle over them.
OTEP were the nights headliner and they played a relatively short set that was supposed to have "War Head" as the encore but for whatever reason they cut the set after their cover of "Breed" by Nirvana & then Otep headed directly to the merch table to meet fans!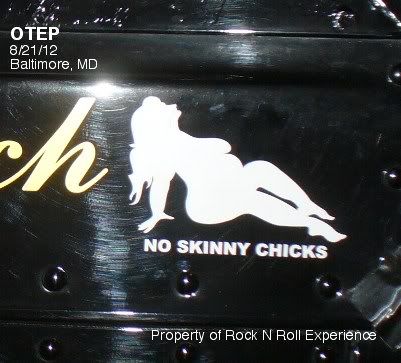 This version of OTEP featured yet again, another totally new backing band & this version IS a keeper because the 3 guys in the band played their hearts out & OWNED each song...this IS the band she needs to keep!
The guitarist was a muscle headed body builder type who wore a weird mask the entire set & looked like an escaped psycho while her new drummer played the hell out of his drum kit.
The set was standard, the poetry stuff was kept to a minimum between songs, Otep ranted about politics a bit & this was probably the strongest OTEP live show I've ever seen because her new backing band just flat out kicks ass!
A totally funny observation I made after the show was a sticker on OTEP's bus which read "No Skinny Chicks" and also before the show if you happened to wander outside for a smoke you might have seen the current OTEP guitarist doing one armed push ups on the side walk & doing these one legged squats...that was something I'd NEVER seen outside of Rams Head Live before a show! Click here to "Like" Rock N Roll Experience on Facebook