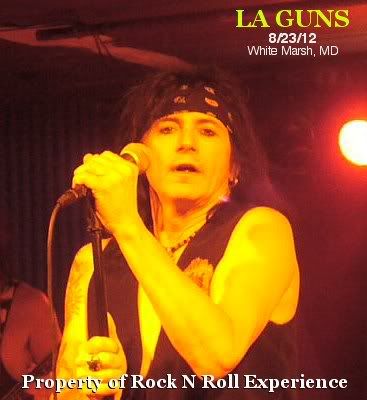 LA GUNS
August 23, 2012
House of Rock
White Marsh, MD
Phil Lewis & his version of LAG rolled through town on a mellow Thursday night and the interesting thing was the previous night Crashdiet played the same venue but sadly the Crashdiet show had way less attendance than the LAG show did. If I had to compare the Crashdiet show to the LAG show I'd say hands down Crashdiet was far superior to LAG but here in the States LAG is a brand that's know whereas Crashdiet are still struggling to be heard.
There were 2 local openers on this night & I'll skip mentioning both local openers simply because there were too many clichés of hair metal past & anything I would say might come off as negative so I'll skip the openers & cut to the nights headliner.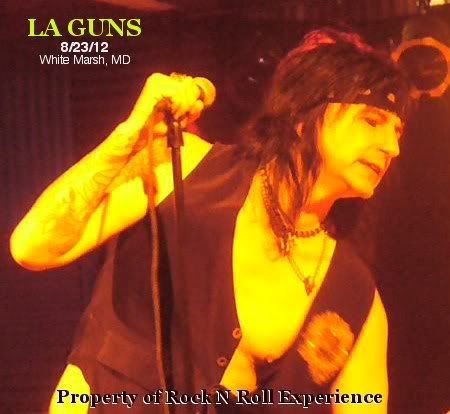 LA Guns came out & did their own line check, Phil wore a baseball cap & hoodie on his head so the crowd would not see him...uhmmm, dude, you fooled NO ONE! It was quite funny actually to see Phil trying to stay in cognito but we all knew it was him. So after the band came out & checked their own levels & made sure their gear was to their liking the roadies came out to fine tune things & this is where the night started to drag on because there were some issues with wires or whatever that made the show start about 30 mins later than it was supposed to and watching the bewildered crew "try" to fix the problem was funny because they came off so amateur compared to most touring bands roadies. Once the issue was fixed the band came out and I was happy to see them using "No Mercy" as the opener once more. I remember talking to Phil a few years ago and he told me they stopped playing "No Mercy" for a bit because they got sick of it yet it's honestly a great opener for an LAG show because it's fast & heavy!
The first 3 songs of the night were actually the 3 songs I cared the most about...after the 3rd song I could have left & I would have been ok because the set started with "No Mercy", "Sex Action" & "Never Enough"....they came out blazing with their 3 best songs within the first 10 minutes of the show!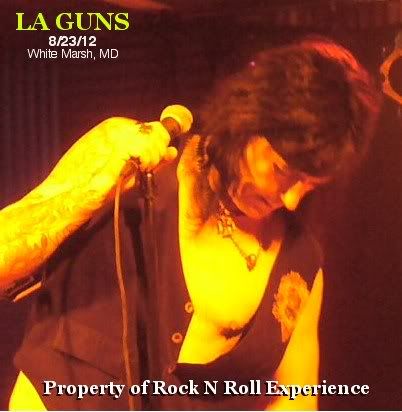 The set did drag a bit when they went into the new material & the more obscure "Waking the Dead" stuff BUT I do give the band credit for mixing the set up & Phil even added that he wanted people to take note that the band DID not always play the same 10 songs, that they made a point to add new material to the set to keep it fresh!
Phil's playing guitar more & more each time I see the band & he actually sounded decent playing wise although it's clear that he has to concentrate on his playing alot more than Stacey!
Crowd wise it was fun to people watch because the mullets, stone washed jeans & feathered hair made me appreciate the fact that the 80's were long gone.
The drum solo "Earthshaker" Riley did was boring as hell....why they allow him to do that solo is beyond me because Riley's drum solo makes Peter Criss's drum solo look amazing...Riley's drum solo lacks any flash, you can see better drummers on any given weekend if you walk in your local Guitar Center....the drum solo was clearly just a built in break for Phil.
Phil dedicated "Ballad of Jayne" to a girl who passed away recently and usually the standard LAG show ends with "Rip N Tear" but at this show they decided to play one extra song & it was a new one from the new record which wasn't planned nor listed on the set list!
All in all it was a fun show, Phil still has his voice, Stacey did a great job playing the part of Tracii & the only downfall of the show was the drum solo.
Click here to "Like" Rock N Roll Experience on Facebook
LA Guns Set List:
No Mercy, Sex Action, Never Enough, Over The Edge, I Wanna Be Your Man, You Better Not Love Me, Sweet Mystery, Revolution, Hollywood's Burning, Sleazy Come, Drum solo, Electric Gypsy, Ballad of Jayne, Rip N Tear, Crazy Tango