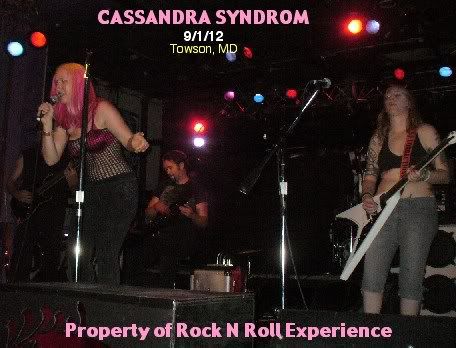 TEAM CYBERGEIST / CASSANDRA SYNDROM
September 1, 2012
Recher Theatre
Towson, MD
Essentially Team Cybergeist was started as an internet project where various musicians would collaborate online with former DOPE drummer Angel...the initial results of that project featured collaborations with members of Kittie, Shinedown, System of a Down & more.
When Angel decided to put together a live band to play the songs created by the Team Cybergeist project he had a flurry of rotating musicians at one point & when I saw Team Cybergeist a few years ago the live band had alternating lead singers and some of the band members were different...the 2012 version of the band is more of a live band that's all the same members and when they played the Maryland area on September 1, 2012 the band impressed me with their live show...the 2 main things you couldn't ignore were Angel's intense drumming & their singers interestingly hypnotic stage presence.
The band covered "Head Like A Hole" by NIN & "Somebody's Watching Me" by Ray Parker Jr. alongside an hour plus set that was primarily original material.
The one opening act I caught on this night was Cassandra Syndrom and they were so/so....my big issue with the direct support act was they had no live drums...the band utilized a guy onstage that played a weird electronic drum contraption which essentially was a key-tar with foot pedals.
An electronic drummer can NEVER compete with what Angel does behind his live drum kit! Click here to "Like" Rock N Roll Experience on Facebook