POWERMAN 5000
September 29, 2012
Soundstage
Baltimore, MD
Setlist:
Show Me What You've Got, Nobody's Real, Stars Revolt, Automatic, How To Be A Human, Action, Free, Super Villain, V Is For Vampire, Time Bomb, City of the Dead, Horror Show, Bombshell, Supernova Goes Pop, They Know Who You Are, Hey That's Right, When Worlds Collide
In 2012 the resurgence of 90's rock is quite the rage and Rob Zombie's brother Spyder is cashing in on that trend by reactivating Powerman 5000 for a new record/tour.
There's 2 original members in the current line up of Powerman 5000 and musically they sounded great this night with zero flubs music wise.
"How To Be A Human" was the new song in the set & musically it sounds like all of their other material...it's typical nu-metal with that PM5K sound.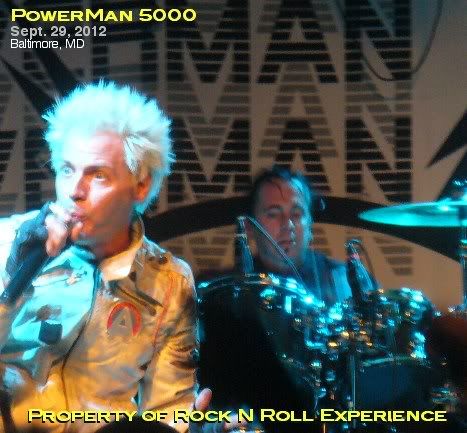 Spyder brought back the neo-space man look while the rest of the band wore simple black jackets with the PM5K name on the front and perhaps the most interesting part of the show was the encore that had everyone but Spyder wearing alien masks complete with light up eyes!
The masks looked cool BUT Rob Zombie did that same thing years prior when he played the Howard Stern movie premiere which aired on MTV many years ago.
"Free" was my personal favorite of the set because the song came off powerful & different than the rest of the older material the band played...much of the PM5K catalog sound similar.
The newest members of the band are an interesting fit....one guitar player looks like a left over from an 80's hair metal band, the other guitarist looks like he came from an emo band & the bass player has no real stage presence....I guess if Spyder wants to be the center of attention it was a smart move picking members that don't stand out.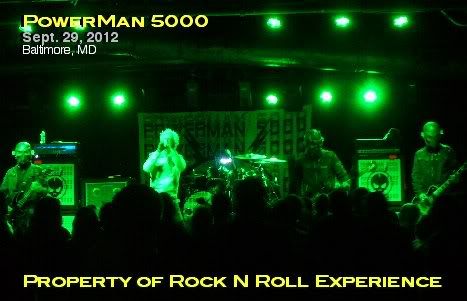 The PM5K set was exactly 65 minutes long and the show was actually over before 11 PM and I found that just a tad odd considering this was a Saturday night!
Powerman 5000 are still a fun live band, they sounded really good this night but the thing is, what they do onstage feels a bit dated in this era...I don't think some of their material held up very well over the years.