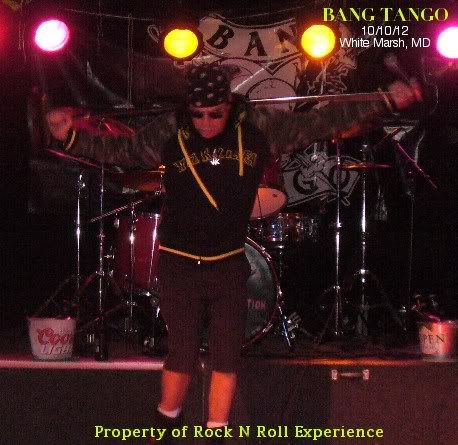 BANG TANGO
October 10, 2012
White Marsh, MD
If a band manages to last for more than a decade the odds are great that it will NOT be the same band atleast member wise, that it was from the beginning. What many people bitch about is the fact that most bands from the 80's who are still around today are down to one original member and what you have to appreciate is the notion that you still have the option of seeing & hearing acts from 20 years ago regardless of how many original members are there or not.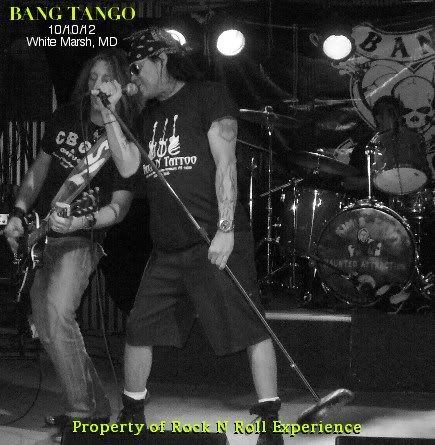 Bang Tango had a major label deal in the 80's, received regular air play on MTV & did pretty decent for themselves back in that era BUT as time went by and the climate of music changed Bang Tango went under the radar a bit releasing records & touring with little or no notice from the mainstream rock world, yet Joe Leste managed to keep the Bang Tango name alive.
The current touring version of Bang Tango is a tad different than the version old school fans will remember from the 80's but you have to realize, it's 2012 and EVERYTHING changes over time....pop culture isn't the same & neither is Bang Tango at this point...the band still sounds good, they do a great job paying tribute to the older material & they toss in new songs to keep things fresh.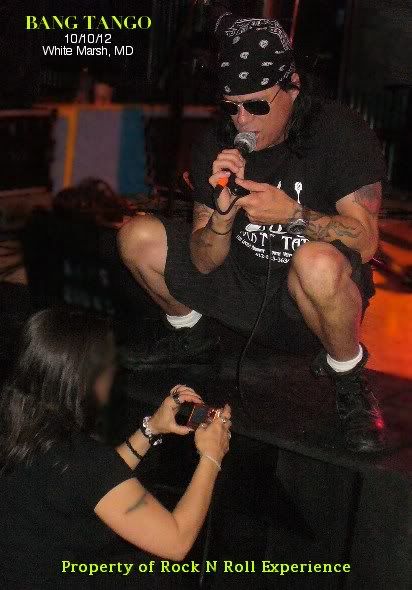 The set list at this point is 50% new, 50% old and it all works because the fans seem to have an open mind when it comes to the bands material. On this particular night they had a guy filming most of the show both on & off stage for use in the bands upcoming documentary and from what I've been told about it, it will be all encompassing with interviews from all past members as well as new footage of the band on the road & re-creating Bang Tango history.
Seeing Joe Leste taking the stage wearing a Wiz Kalifa hoodie, shorts, a bandana, & combat boots did throw me just a little because he was dressed like a weird mix of 90's grunge & 80's hair metal with a hip hop hoodie....I'm not sure what look he was going for but it was interesting!
At one point during this show Joe invited the clubs owner onstage to play "Highway To Hell" on guitar with them and the guy did a spot on job playing the song and during "Don't Stop" Joe invited a rather young looking girl onstage & there was a break down in the song where he serenaded the girl and it did come off a little creepy if I'm being honest with you because the girl looked REALLY young & could have been Joe's daughter easily.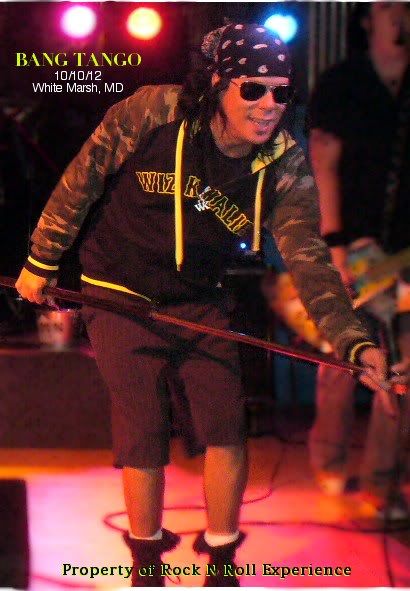 The crowd was a tad small and I can't totally blame the band because it was a Wednesday night & promotion for this show was very limited so the crowd that turned out was more than what I expected for a week night!
This was actually the last show of the US leg of their tour and the band were leaving for Germany a few hours after the show was over. Musically Bang Tango were good, they've always had a loose vibe and the onstage set list was followed loosely till a certain point where they added "Breaking up a Heart of Stone" because a guy in the crowd yelled it out.
"Someone Like You" was the closer for the night & the show was alot of fun if you went into it NOT expecting to see Bang Tango from the 80's....that's the problem most people have, they won't give bands a chance to change & just accept that it's 2012 & NOT the 80's.