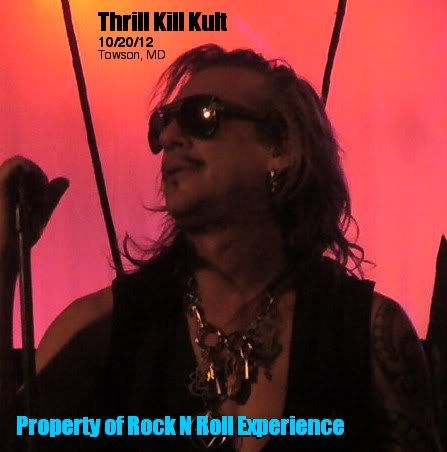 THRILL KILL KULT
October 20, 2012
Towson, Maryland
Recher Theatre
Groovy Man & Thrill Kill Kult came back to Maryland for their 2012 tour on October 20 and to the bands credit I give them props for constantly changing their live show year after year.
The first time I'd ever seen TKK they had no live guitars onstage & if memory serves me correct it was simply the keyboard player, a bass player, Groovy Man & a back up singer....the overall way I'd describe that show was pop industrial. The next time I saw TKK the show was rather dark & almost evil in vibe with a new bass player & when I saw TKK this night the live band featured a live guitarist onstage which added a much needed shot of testosterone to the bands live show!
Musically this show was still primarily an industrial dance show but the spots where the live guitar was utilized in the show added some balls to what TKK does.
My big issue with TKK over the years was simply the lack of live guitar onstage...they always sampled all the guitar parts & having the guitar parts played live onstage adds more depth to the bands sound & it adds just a little "rock" to what TKK do live...I'm not sure how much the fans appreciated it but for the record the live guitar playing MADE this show for me!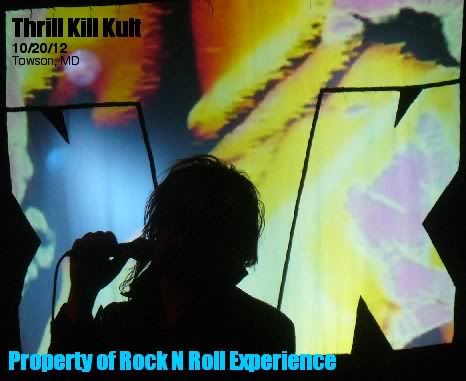 Groovy Man has blonde hair these days & still sports the cheesy 70's porn facial hair while the new members of the band add a little change to the live show with the key sound of TKK still in tact regardless due to heavy sampling throughout all of their music.
I didn't bother sticking around for the encore because most of the set was the same thing over & over so I had my fill not to mention my partying throughout the night was catching up to me by the nights end!
The crowd was a bit of a let down because usually a TKK crowd is something to look at...this night it was very working class & no one really dressed up or looked cool...the prettiest girl in the room was the singer for the local opening band!
I'll end this review on a funny personal note....I had some random girl come up to me this night & tell me I looked like Jared Leto from 30 Seconds to Mars & when I ran into her later on that night she kept referring to me as "30 Seconds To Mars" & I took that comment as an insult at first until she explained that it was an absolute compliment & that she wanted to "fuck my face off" lol....yes, that's the kinda fun I have when I go out!