SCARS ON BROADWAY / DEFTONES
October 26, 2012
Baltimore, Maryland
Rams Head Live
Life is like a weird dream sometimes....the blurry images of a random night of rock n roll debauchery that you might see in some 1/2 assed pop culture movie DO happen just like that sometimes and this night the backdrop for that scene was Rams Head Live in Baltimore and the bands lending their music/live performances were non other than the Deftones & Scars on Broadway featuring Daron Malakian from System of a Down.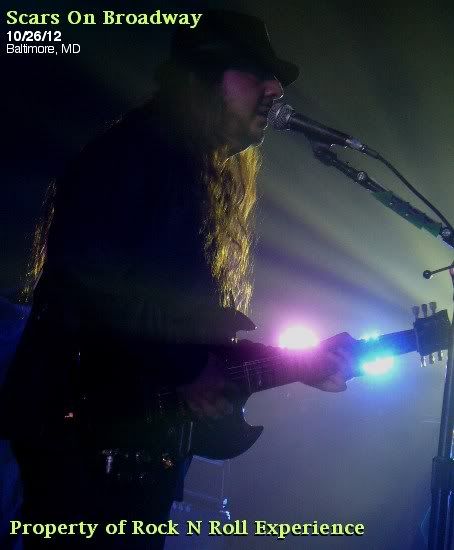 Doors opened at 8 PM for this sold out show and Scars on Broadway took the stage at 9 PM sharp. Scars on Broadway had very limited stage area due to all the lights & production the Deftones brought with them but regardless Scars on Broadway played a solid set that saw them playing the bulk of their debut record.
Daron is a tad more reserved when he's the lead singer for Scars on Broadway than he is when he's the guitarist for System of a Down and sadly the band suffered from a really muddy audio mix which made the keyboards & samples hard to hear in various parts of the set, not the mention Daron's vocals could have been a tad louder in the mix because he came off a bit low in parts BUT that's what happens to opening bands more times than not!
Musically I was pleased with Scars on Broadway despite the bad live mix they received and they were a perfect opening band for Deftones who actually had a small surprise in store for the crowd...none of other than HR from Bad Brains was in the house & would be joining the band for 2 songs!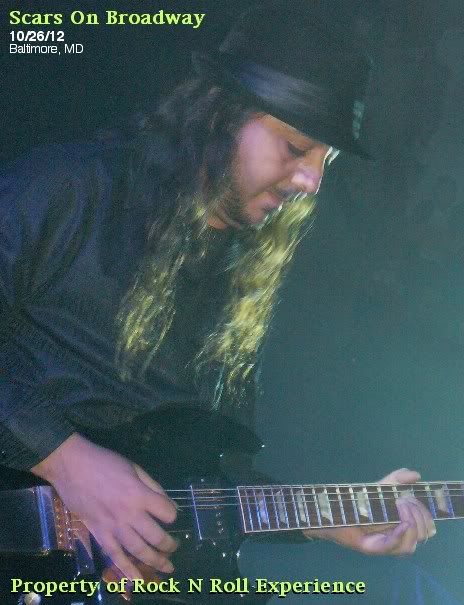 Scars on Broadways set was solid, the lights used were deep red & blue which matched the vibe & mood of the music quite well with everything being a little artsy yet full on rock with just a touch of insanity here & there which you'd expect from Daron!
The Deftones had a ton o' lights & production on stage which reminded me of when Smashing Pumpkins & Slash played this same venue & brought their own lights....at certains points during the set the lights behind the band were so intense that it was almost blinding!
Deftones live mix was clear & you could hear every nuance of the show from Chino's screams to the sampled notes....it was also notable to mention that Chino took the stage ready to attack and he came out sounding strong, he embraced the crowd, jumped around all night & he was in really good shape compared to how he was just a few years ago when he had gained alot of weight & became known for delivering hit or miss performances based on how much he was partying.
Deftones played a nearly 2 hour set that included a 3 song encore & as an added bonus this night they brought out HR from Bad Brains to sing 2 songs with them....HR looked like a crazy muslim onstage with his long draped head garb and when he came out to sing "Bored" with the band he seemed to get lost at one point & just stood in the back while the band did their thing....HR didn't really fit with Deftones onstage but it was cool to see him jam with them a bit!
The stage was extended this night so technically there was no real barricade up front....the stage extension filled in the bulk of the space where the security personnel would through the barricade & the only real area inside the barricade was a small amount of space on both left & right sides which left no room for security to do their job if there was an issues with the crowd up front.
"Seven Words" was the last song of the night & that was the first song I'd ever heard from Deftones way back when and to be honest with you, that song lost it's feeling at this point because musically the band has gone past that era quite a bit & they've grown & gotten better over the years.
All in all, this was a night full of surprises and no one in attendance will forget this show because the production & sound Deftones brought was actually meant more for an arena as opposed to a large club...this show was extremely impressive & one other point I'll make is the crowd was actually cool, mellow & nice which isn't always the case at all rock shows!
I have to thank Michael Moses for his help, you rock sir....also I have to thank Mr. A. Hell (www.hellmaidens.com) & I want to give a HUGE shout out to all the cool peeps I partied with/hung with/met this night....it was indeed an epic night!
SCARS ON BROADWAY set list:
Scars on Broadway, World Long Gone, Sickening Wars, Universe, Chemicals, Insane, Dictator, Cute Machines, Guns Are Loaded, The Say, Fuck N Kill, Exploding, Stoner Hate
DEFTONES set list:
Diamond Eyes, Rocket, Butcher, Drive, Summer, Poltergeist, Rosemary, Fiet, Digital, Knife, Tempest, Fireal, Engine, Right Brigade (w/ HR), Riviere, Change, Passenger, Bloody, Bored (w/ HR), root (audible), Seven Words