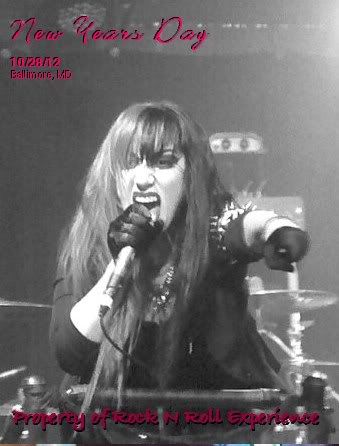 BLOOD ON THE DANCE FLOOR / NEW YEARS DAY / DAVEY SUICIDE / JEFFREE STAR
October 28, 2012
Baltimore, Maryland
Soundstage
I hate it when the listed times change for a show because this concert was listed as having a start time of 8 PM yet the actual start time was 7 PM so fans who arrived assuming the listed set time was correct had a harsh surprise in store when they arrived at 8 PM to see New Years Day finishing up the last song in their set!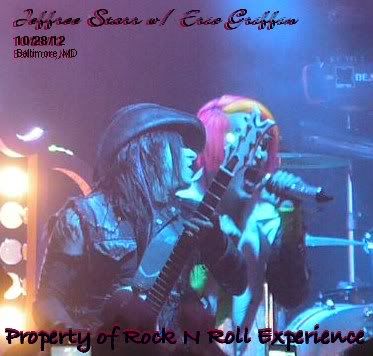 Davey Suicide's band opened the show shortly after 7 PM & New Years Day came on around 7:30 PM so when I arrived at the venue I caught the last song in the New Years Day set which sounded great & the band looked cool onstage BUT I missed their entire set once again so all I can say is their last song sounded great & the one song I saw from New Years Day was better than all of the Blood on the Dance Floor set which I did see!
Jeffree Starr was next on the bill & while I can appreciate what he does onstage I was just a bit annoyed with his show because it wasn't what I like BUT there was a nice little surprise in the middle of the set when Eric Griffin from Murderdolls/Genitorturers/Davey Suicide played live guitar onstage with Starr....that was the highlight of the Starr set & Eric told me after the show that this was only the 2nd time he'd joined Starr onstage during this tour!
Blood on the Dance Floor were the nights headliner and they usually have foam cannons on both sides of the stage but on this night they only had it on the left side of the stage & a confetti cannon went off on the left side every few songs.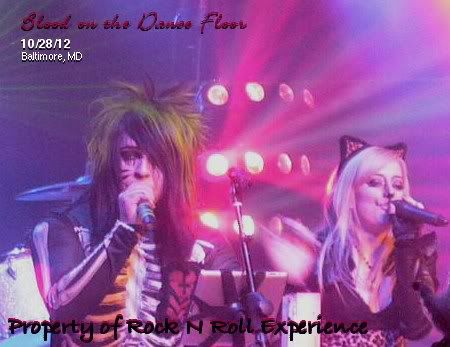 Drenching the crowd with gallons of fake blood, boys kissing boys, commenting on underaged girls tits & playing a partial cover of "Rock You Like a Hurricane"...all in a nights work when you're in Blood on the Dance Floor!
BOTDF do a great job of bringing a dance club to a rock club stage and the thing is, while I'm not particularly fond of BOTDF I can respect what they do onstage because they are entertaining, amusing & they dress like rock stars that you wouldn't see in every day life...the singer for BOTDF that has Nikki Sixx's hair, he's got the most annoyingly high voice I've ever heard on a stage and he's probably the thing that most bothers me about the band YET he's the thing that makes them memorable!