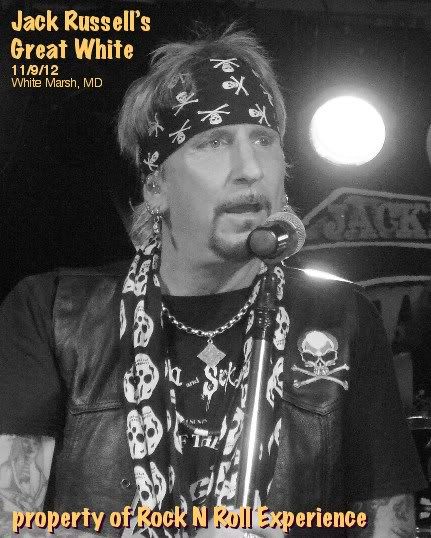 JACK RUSSELL'S GREAT WHITE
November 9, 2012
White Marsh, Maryland
I went into this show expecting a complete train wreck based on what I'd heard from others and to my surprise the show was actually pretty good considering it was Jack Russell with a completely new band that called itself "Great White".
Jack's health has been a major issue over the past few years & onstage he hobbles a bit while looking a tad frail when he performs too long without taking a break....that's one key element to his performance these days...it's very noticeable that Jack takes many breaks in the set to rest & during those breaks it gives his band a chance to jam, solo & at one point the band did a blues cover where the rhythm guitarist sang lead vocals!
In actuality it would be best if Jack Russell performed simply under his own name rather than the name "Great White" because in the rock n roll world "Great White" is best known for their botched pyro accident that killed 100 fans. I understand why he wants to keep the name "Great White" though, it still has a draw and if you doubt it the proof was in the pudding on this night because the club was packed!
Jack also declared that "This band IS Great White" which reminded me of the last time I saw Jani Lane & he said onstage, "I am Warrant!".
The show started after 11 PM when Jack & his band took the stage but sadly there was a horrible issue with Jack's mic which made much of his vocals hard to hear & his mic was feeding back so bad that he apologized to the crowd for the unprofessionalism & he walked off till the issue was corrected.
Performance wise I was impressed that Jack was able to still sing like he always did & he was joking about his near death experiences regarding his health....he commented that it wasn't gonna happen on his watch!
Set wise Jack played all the hits from Great White from "Down on Your Knees" to "Rock Me" and I'll admit I was a tad surprised with just how many songs I knew in the set because I'd never really considered myself a Great White fan yet I knew all but one song played on this night.
The special bonus to this show was that Don Dokken was supposed to join Jack onstage for a song but sadly it never happened for whatever reason & Jack even said while onstage that Don Dokken was in the room & was invited to come onstage & sing with him but Mr. Dokken chose to not take the stage.
This show was something that you could look at in either a positive or negative light depending upon your mind set......Jack came onstage still trying to act the part of a "rock star" yet he's a shell of what he used to be. On the other hand though it's amazing Jack is still able to get out there & perform....probably the funniest part of the show was when Jack told the crowd he'd come out & sign autographs at his merch table after the show...he begged fans to buy merch "Because he's got legal bills!" and that is exactly how he said it too!
For what it's worth, out of the 2 touring versions of Great White the Jack Russell version is the best!