DIO DISCIPLES / WITCHBURN
November 15, 2012
White Marsh, Maryland
Dio Disciples are a DIO tribute act that's officially endorsed by DIO's estate & on the night I saw the band the line up was: Simon Wright, Craig Goldy, Scott Warren, Oni Logan, Bjorn Englen and Ripper Owens with Ripper & Oni sharing vocals duties equally although I personally believe Ripper sang the best songs in the set!
Ripper can belt out notes very similar to Ronnie & when you close your eyes this band really does take you to the same place Ronnie did or atleast as close as you can get at this point because these guys know this material & they sell it 100%!
Seattle's own Withburn opened the show & I have to admit I was quite surprised with just how good the band was!
Musically Withburn are a mix of sludgy stoner rock with a Sabbathy feel but the vocals are where they shine because most stoner rock bands don't have an emphasis on clean vocals whereas Witchburn's lead singer sings strong & clear so the best way I could describe the sound would be if you took Stevie Nicks & had her sing for Fu Manchu or Queens of the Stoneage...that's the best description I can give you of Witchburn.
Dio Disciples played a set that was a little under 2 hours & they left no stones unturned playing every "hit" from Dio starting Rainbow & the Black Sabbath years right up to the last few years of Ronnie's solo career!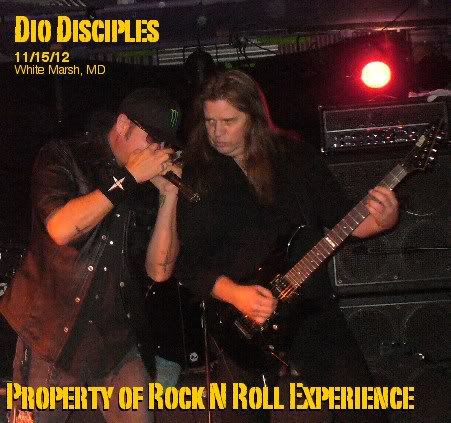 Oni was the one that surprised me because I had no idea he had that kind of singing voice although Ripper was clearly stronger & better vocally than Oni.
Ripper sold his soul to Monster Energy Drink because he had Monster's logo everywhere on him & he even tattooed the logo on his wrist...I hope he got paid well for that endorsement!
Craig Goldy is a tad huskier these day but his playing was impressive & the man still has chops up there when he shreds guitar solo's..he actually played the same guitar the entire night & his playing is so effortless that it shows just how talented the man truly is on guitar.
Simon was buried behind the drum kit so you had to look hard if you wanted to see him at all while the keyboard player acted like a mad scientist on stage right adding his parts very tastefully but I was surprised when they played "Rainbow in the Dark" because I was expecting an overbearing keyboard part & the guitar was louder than the keys which made me happy!
I truly believe if there is a heaven that Ronnie is looking down & smiling when he sees Dio Disciples paying homage to the life of Ronnie James Dio because when they band plays "Long Live Rock N Roll" they change the last verse to "Long Live Ronnie James Dio" & that is 100% what this band is all about..the life & legacy of Ronnie and they do what they do very well!
For whatever reason, on this night the encore was listed as being 3 songs long but they cut one song & did a 2 song encore.
ps: on a personal note, if a certain person happens to read this review, I remember that "Last in Line" was the vid that scared you as a kid! ;)