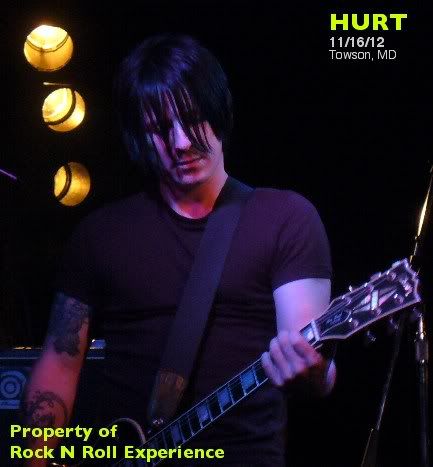 SMILE EMPTY SOUL / HURT / XFACTOR 1
November 16, 2012
Towson, Maryland
Funny side note to this show; the original billing had Smile Empty Soul as the nights headliner but for whatever reason Hurt headlined this show and I'll admit was a let down to me at first.
This show had 3 local openers which balanced out the 3 national acts nicely but seeing 6 bands in one night is a tad much so I arrived in time to catch the first national act on the bill, Xfactor 1. Musically Xfactor 1 were average modern hard rock....they were intense onstage as far as their stage presence goes but musically I didn't leave with any real impression of what the band were about simply because most of their material was repetitive & the same.
I did laugh a bit when the singer for Xfactor 1 asked the crowd to pretend it was a Motley Crue show & get "decadent"....the thing is, this crowd was not about moshing, it was a very mellow crowd that reminded me of the 90's rock scene alot...everyone dressed down, baggy clothes, no rock star clichés, and they clearly DID NOT want to mosh...they were there to have a few drinks, hang & see some live music!
Smile Empty Soul were next and I'll admit I would have rather seen SES as the nights headliner because I like their music a tad more than Hurt's....the entire room was filled with the smell of inscents which burned throughout the bands entire set and it added a great counterbalance to the tuned down, chunky riffs that the band churned out for the bulk of their set.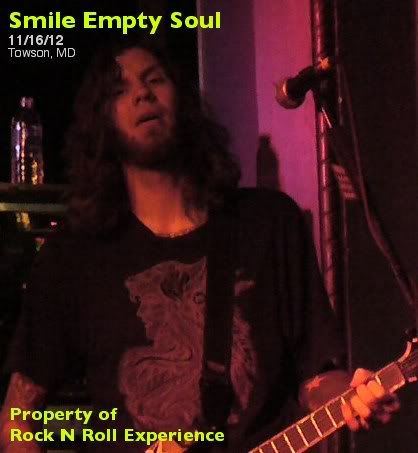 Musically & visually SES are clearly stuck in the 90's and what I realized as I scanned the bands lyrics this night was just how depressed & down the band were/are...every other song was about what a loser they were, how no one likes them, how the world's treated them like shit & I got the sense that they were in need of a hug or some affection...that's exactly what the 90's grunge scene was about...darkness, depression & admitting you were sad....it's such a bleak take on life and while I understand it & respect it I could never truly relate to that state of mind simply because I was almost always more up in my state of mind than down....SES really sum up the 90's quite well with all their apathy & anger!
Hurt were the nights headliner and they took the stage looking a little different than how I remembered them previously....I think the last time I saw them was way back when they opened for Alice in Chains which must have been like 4 or 5 years prior...they added a new member or 2 since then & their sound has changed slightly since back then.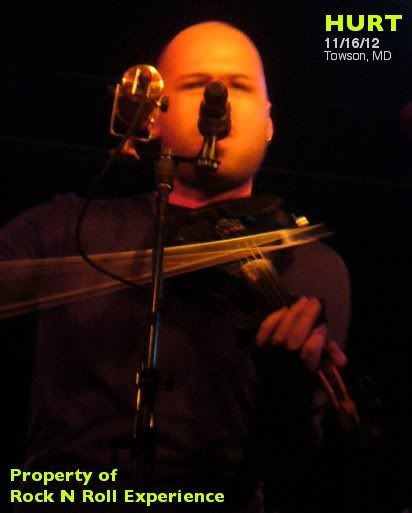 I wasn't overly impressed with the first song or 2 which started off slow but by the 3rd or 4th song of the set I was impressed with their tone.... they sounded damn good and the singer has an interesting voice although he reminds me of a pudgy Chris Daughtry. The band really play well together which is apparent when you see them live!
Hurt played a set that actually did impress me because I didn't care for them the first time I'd seen them several years back...however, on this night they sounded great, they rocked hard and they definitely deserved the spot of nights headliner after all!
Click here to "Like" Rock N Roll Experience on Facebook