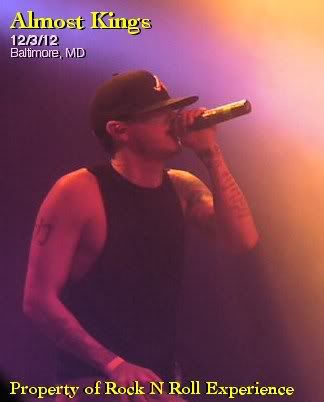 YOUNG GUNS / ALMOST KINGS / FATALLY YOURS
December 3, 2012
Baltimore, Maryland
Soundstage
This show was one I won't forget for several reasons which you'll figure out as you read this review.....the 3 bands I caught this night all brought something unique to the table.
Fatally Yours are fronted by Keith from Bleed the Dream and this was actually the bands first live show EVER & they played a set that was smoke machine heavy filled with atmospheric rock that was rhythm heavy with treble soaked white boy groove....I had no idea Keith actually sang lead vocals in this band and he did a good job of being the bands front man.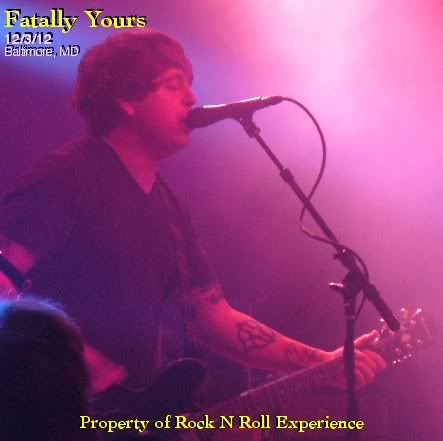 Fatally Yours have a full stage of musicians...they have 3 guitarists, bass, drums & keyboard not to mention this night they had several special guests taking the stage to perform with them (they played a Bleed the Dream song & Peter Murphy song in their set!).
Fatally Yours played a solid set & they definitely had a wall of sound up there which was a stark contrast to the next act, Atlanta's own Almost Kings who brought a rock/rap hybrid to the stage chock full o' energy & excitement & a groove that had a splash of funk to it which made the crowd jump & move throughout most of their set!
Inserted in the middle of the Almost Kings set was an Eminem cover which fit the band quite well considering Boze's vocals bland singing with rapping quite well and once Almost Kings finished up their tight set the nights main attraction kicked off when Young Guns took the stage for a big rock show on a rather tiny stage!
Young Guns flew in especially for this show & they played a set that was flavored with catchy hooks, perfect choruses & overall Young Guns sounded damn good!
I caught Young Guns earlier this year when they opened for Seether and they didn't have full lights/sound so it was quite nice to see them on their own terms headlining...they brought an energy filled rock show to the stage & for a Monday night you would have though it was a Friday because this show was a rock n roll party!
I'll admit that I got a tad sick & puked my guts out while Young Guns were playing so I can attest to how good they sounded while I was in a bathroom stall vomitting....isn't that the true test to any band....if they sound good even when you're puking they must be amazing!