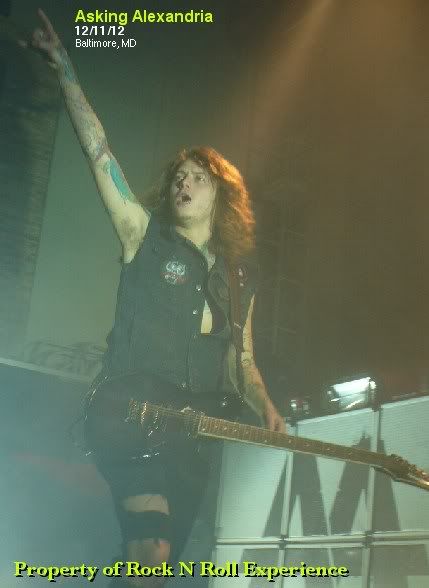 ASKING ALEXANDRIA
December 11, 2012
Baltimore, Maryland
Rams Head Live
I arrived 10 mins before Asking Alexandria took the stage and the crowd was a sea of under aged kiddies that clamored against the barricade in hopes of getting close to their idols....the irony is that the changing of the guards in the metal world was evident last night when Asking Alexandria were able to sell out Rams Head Live in Baltimore.... they've achieved a status where they can play sold out tours in the States and they are drawing in the next generation of "new" metal fans....the older bands are still around BUT a band like Asking Alexandria IS the future of metal music and how much you love them or hate them really depends on how old you are!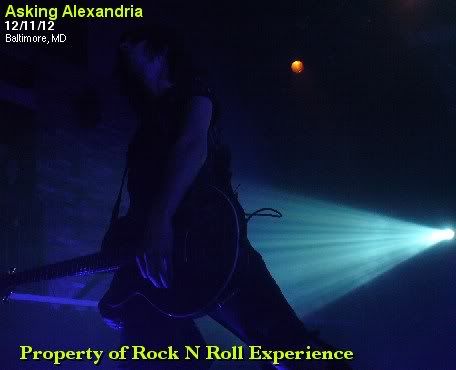 When the band took the stage my first thought was, "Who in the hell is that singing?"
What I didn't know was that the bands singer blew his vocal chords out so the last few shows have featured all of the opening bands on this tour taking turns singing vocals...the logic "On with the Show" was never more evident than on this night when the leader of the band was sick & they went on without him!
My personal feelings on the show are:
The band gave it a valiant effort & played a solid set with fill in singers
They did kinda f**k over the die hard fans by not telling them in advance that their singer was not going to be there.
They should play a free show at some point for all those who paid to see the band with their singer because the shows without him are NOT Asking Alexandria shows....with random vocalists the band comes off like every other band from the metal-core genre!
The sound was bad no matter where you stood...I don't know if it was the sound guy or what BUT the band did not sound good at all.
I was mildly insulted when the band walked offstage during one point & they played an Asking Alexandria song over the PA while flashing the lights & smoke onstage to make it look like a rock show despite the fact that there was NO ONE onstage & it was just a cd playing....ironically kids still crowd surfed to that crap!
The show wasn't bad but seeing them without their singer was a let down and I can't lie about that....also they use a few too many backing tracks at times which make it look like they are not always playing live up there!
Click here to "Like" Rock N Roll Experience on Facebook