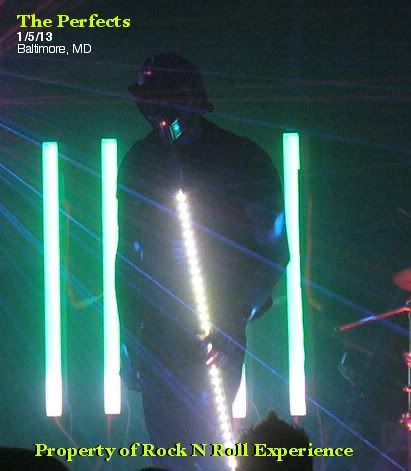 Random Blurbs about the Baltimore Music scene...
I caught the Perfects cd release show on January 5, 2013 at the Ottobar and on this night Stars and the Sea opened the show in support of their new single which was released just a few days prior to this show.
I arrived late to this show and Loving The Lie were taking the stage just as I strolled into the venue. Loving the Lie have been playing the scene for several years now and their following is quite impressive. The bands music is pure modern rock ala Fall Out Boy with an emphasis on every song being a possible "radio" single....basically every song has a good amount of commercial appeal.
The Perfects were the nights headliner and what I noticed right off the bat was the fact that they were missing 2 guitar players who left the band to form Fatally Yours. The Perfects sounded great and everyone who bought a ticket on this night got a free Perfects cd!
January 10, 2013 I caught up with Rome Apart when they played a free show at Angel's Rock Bar in downtown Baltimore. The bands set was interesting and the mix was extremely loud yet clear to my ears....on a personal note I am semi-deaf from constant loud music but they sounded good to me!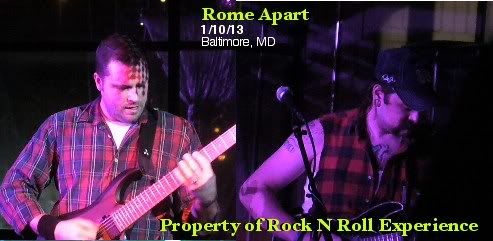 Rome Apart guitarists Tobey & Chandler dressed as rednecks for this show & they did a great job of warming up the crowd for the nights headliner Sky Came Burning.
January 11, 2013 I caught up with Nights Bridge when they rocked the Recher Theatre opening for Apparitions.
Nights Bridge is the new rock n roll band featuring Mickey Valentine (Formerly of Beretta Jane) and his new band is a slick, flashy, in your face styled rock band. The rhythm section hits hard with a tightness that keeps the entire show solid while the bands 2 guitarists are flashy & add energy with their riffs, solo's & playing style with Mickey's showmanship as a front man being the icing on the cake.
Mixed in the set of mostly originals were 2 covers, "Ace of Spades" by Motorhead & "Dirty Deeds" by AC/DC.
Nights Bridge were a fun band to see & hear, they add a shot of adrenaline to the local Maryland music scene!
Click here to "Like" Rock N Roll Experience on Facebook