EYE EMPIRE
January 27, 2013
Towson, MD
Recher Theatre
Before I begin this review I will be the bringer of bad news....as of April 1, 2013 the Recher Theatre in Towson, Maryland will no longer be a live music venue!
The Recher will be gutted and the stage that Slayer, Linkin Park, Disturbed, Liz Phair, Army of Anyone, Filter & countless other musical acts have adorned will be torn down in order to make room for the new dance club which will take the place of the legendary music venue thus ending the venue's live music days....RIP Recher, Maryland music fans will miss you!
Also, if you are familiar with the old parking lots that used to be directly behind the Recher, both lots are no longer in use & it's because they are constructing a HUGE mega-plex movie theatre directly behind the Recher, so yeah...that entire area is changing alot!
On this chilly Sunday evening I caught Eye Empire and this night was an interesting one for the band because some of the band members had colds which made the show a challenge for them yet you'd never know if they didn't mention it.
Musically Eye Empire play a mix of aggro metal mixed with melodic vocals & what sets them apart from the standard aggro metal act is the fact that they do have guitar solo's in their music which adds a little depth to their sound.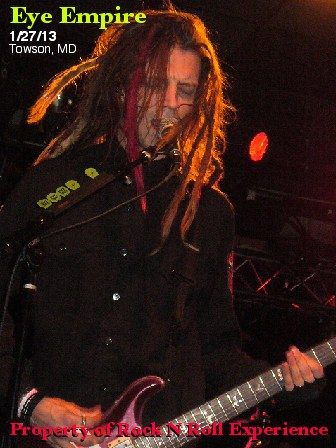 The audio mix was actually clean & chunky which isn't always the case for this type of band when the sound is done in house. The only sad part of the show was the low turn out...Eye Empire have been touring for a few years now & building up their fan base fan by fan yet the media has not realized just how good the band is.
What I give the band credit for is that while there is a little screaming in the vocals, the bulk of the singing is all clean and it definitely adds some power to the bands music!
On this night they played a brand new song that they had never played live before....they said that since all of the bands members live in other states practicing was an impossible chore so they wanted to use the show as an impromptu practice to try out new material & whether or not they were joking the practice song sounded polished & pretty damn good!
Eye Empire are a damn good live band & what's cool about the band is that they have a very working class vibe...they are not rock stars & they don't act like they are better than you just because they are up on that stage....they are very humble & as soon as they are done playing they always thank each audience member face to face...that's something many bands could learn from!
Check out these upcoming Baltimore shows presented by BSM:
Hanzel Und Gretyl - February 15, 2013 - Recher Theatre
Sister Sin / Sin4Sin - March 7, 2013 - Recher Theatre