SISTER SIN / DORO
February 5, 2013
Baltimore, MD
Soundstage
This show was listed as starting at 7 PM and my assumption was that if we got there later we'd miss the opening act & cut right to the core of the show with Sister Sin opening for Doro but instead the opening act went on later than what was listed and upon arriving we saw the lovely sight of a large black lady pretending to dry hump an older white man....the band was an odd mix of hard rock & classic rock, the lead guitarist was decent but the singer & bass player were just plain odd....one was female & one was male...which was which was hard to tell & I'll leave it at that.
Sister Sin took the stage with an intro of LL Cool J & that same outro was played at the end of their set as well. Musically Sister Sin are classic metal in the style of Judas Priest with crunchy guitar, driving rhythm & soaring vocals.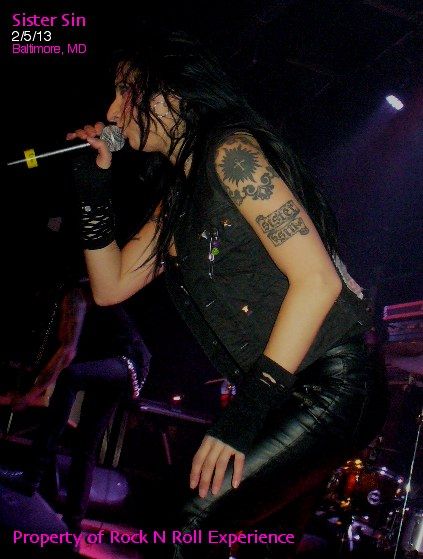 My big complaint about this show was the sound...the band sounded fine till the guitar solo's were played...when the solo's were played it was a bad mix because the rhythm was there but the trebly tone of the leads were drowning in the mix & while you could hear pieces of what was being played the overall mix was not as good as what Doro's band would have when they played!
Sister Sin played a good mix of new & old material and what I did notice during their set was how a large percentage of the men in the room were snapping pics of the bands singer non stop....Liv is the focal point of the band and I can't help but wonder what those older gentleman were planning to do with all those pics of her!?!?! The band has really grown as a unit over the years and I think they are at the top of their game at this point in their career.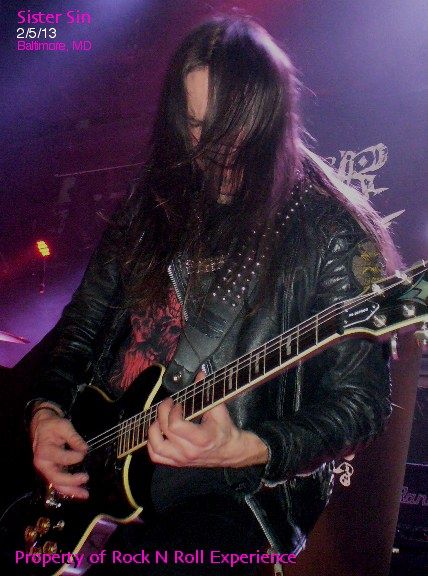 Sister Sin played a solid hour long set and they really did a great job of opening for Doro because Doro's band took the stage in a style that was similar to Sister Sin's musically with the exception of Doro's keyboard players which added a mellower tone to her set in parts.
Doro is a tiny powerhouse rocker that smiles non stop from start to finish and on this night she had a bad cold but rocked the stage regardless!
The nights set was extended to include a few songs not on the set list & I found it odd that they didn't close with "All We Are" & their cover of "Breaking The Law" by Judas Priest....the band actually closed on a slower new song which was cool but kinda odd.
I'll admit this show was really good & I had no idea both bands would compliment each other so well...package wise this was a perfect billing of bands!