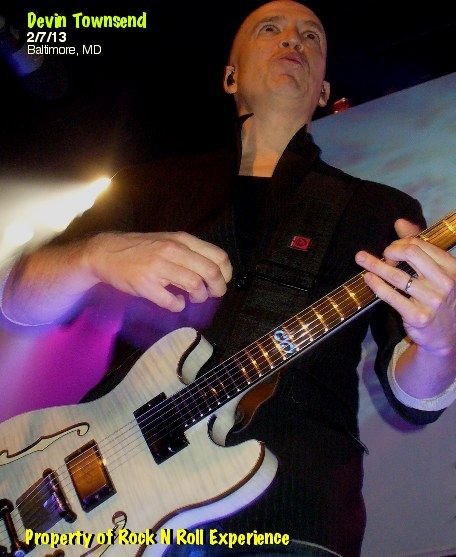 DEVIN TOWNSEND / GOJIRA
February 7, 2013
Baltimore, MD
Rams Head Live
Lofty, Atmospheric tones mixed with chunky power chords filled the air as we entered Rams Head on this night....the opening band was almost finished their set and their metal styled version of shoe gaze rock was rather boring and the main reason we made it a point to get there just before Devin Townsend took the stage.
Hevy Devy and company always deliver a live show that's entertaining both musically & visually because Dev delivers solid musicianship complete with strong vocals that range from clean to screaming/grunting & Dev's between song rants are comical because he basically makes fun of the entire heavy metal genre by coupling in gay jokes, making fun of the crowd and being a complete goof ball while acting totally serious about it....that in a nut shell IS the charm of Mr. Devin Townsend!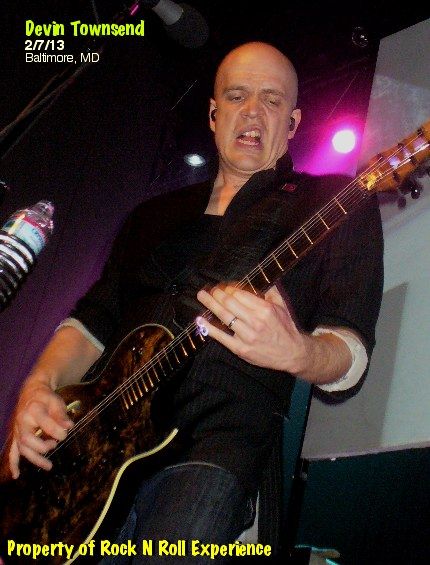 The band utilized their best friend, a projection screen which showed quirky movies before, during & after the show and it added to the multi media experience that IS a Devin Townsend show. I've always given Dev alot of credit because he always puts alot of effort into his shows & even when he's the opening act he still gives as much as he can to the crowd, I mean most opening acts simply play their set with no frills yet Dev usually gives his fans a batch of hand picked movies that he's made or taken from various spots on the internet...it's all done to make the fans laugh & to entertain.....that's the thing with Devin, you have to realize that he's almost always joking on many levels & while he takes his music 100% serious his spoken words between songs are meant to be funny.
Devin Townsend was the star of this night in my eyes & when Gojira took the stage they actually had a hard act to follow.
I was quite pleased to see so many people in attendance at this show because all 3 levels of the club were open & the entire floor was jam packed which showed that heavy music was still alive even on a Thursday night in Baltimore!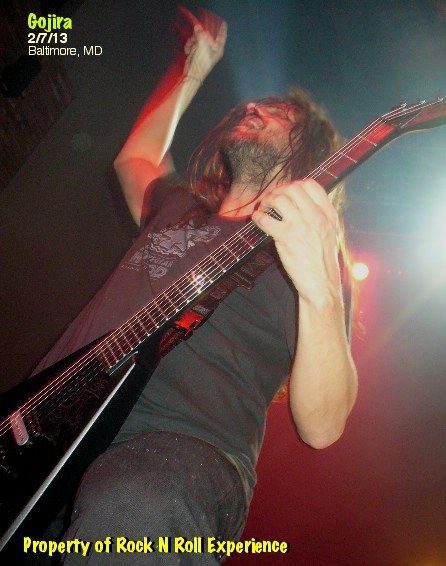 As far as the crowd goes, it was primarily all guys with the few girls in attendance being either gf's, wives, or possible post op trannies....jk, but in all seriousness this show was mostly all ugly dudes which is to be expected at a really heavy show like this one!
Gojira took the stage last and their gear has improved over the years because I remember seeing them a while back & they had limited gear & nothing was really shiny & new...everything onstage now is new & you can see they have been around a bit because they've improved on everything while still maintaining a very low key existence in the metal world.
Opening for Metallica on the bands "Death Magnetic" tour gave Gojira a massive amount of exposure & the band has used that momentum to propel themselves to where they are now with a new record/tour for 2013.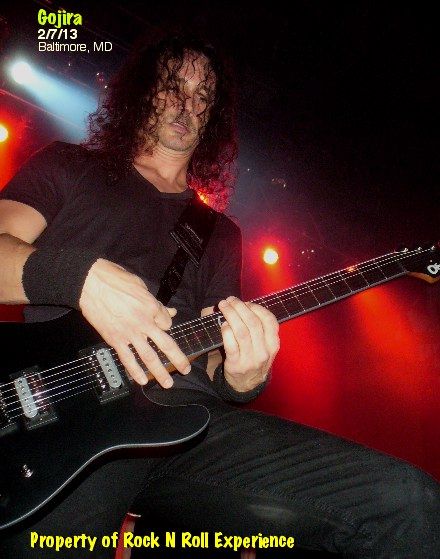 Gojira sounded really good up front, the mix was really clean for a heavy band, the shrill tones of the lead breaks were so loud up front that the treble tones sounded amazing yet you knew they were destroying your hearing while the vocals were cookie monster-ish yet you could hear every grunt....speaking of vocals, during the middle of the set the bands drummer stepped out front to play guitar & grunt through a song which actually sounded pretty damn good & the crowd approved as well!
What this show reaffirmed to me was that Baltimore still supports heavy music on a large scale because it's not every day that you see a large crowd out on a Thursday night to headbang in downtown Baltimore & I'll end this review on a funny note; We were leaving the show & when I paid my parking validation I noticed there was a rotten banana setting on top of the machine that you pay to leave the garage, then I spotted a really cute girl wearing a skull skirt & she was simply magical...Fanks Michelle! <3