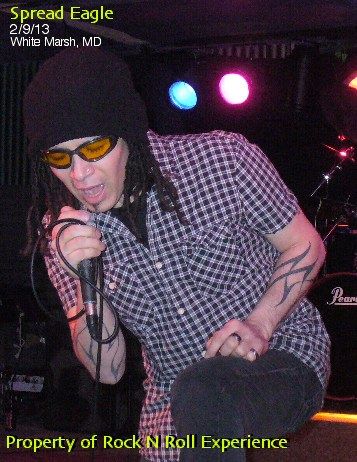 SPREAD EAGLE
February 9, 2013
White Marsh, MD
HOR
New York based Spread Eagle played Maryland for the first time in their 20+ year career & despite the nights headliner canceling the show went on as scheduled!
White Trash were slated to headline this show but had to cancel due to bad weather....regardless of that fact the show went on with Spread Eagle still playing 2nd on the bill & the nights headliner went from White Trash to local rockers Ghosts of War.
Spread Eagle's set was fun, fast paced and sounded really good; the bands 3 piece line up worked well together but I will admit I was a tad surprised with how short the bands members were in height.
The bands hour long set was a good mix of songs from their 2 major label releases and I was actually surprised to see so many people in attendance that knew all the bands songs because I knew the single "Switchblade...." but was never really exposed to much of the bands other material so this was my first time really hearing the bands music & they played a strong set of high energy hard rock that impressed me and the crowd loved every minute of the bands set!