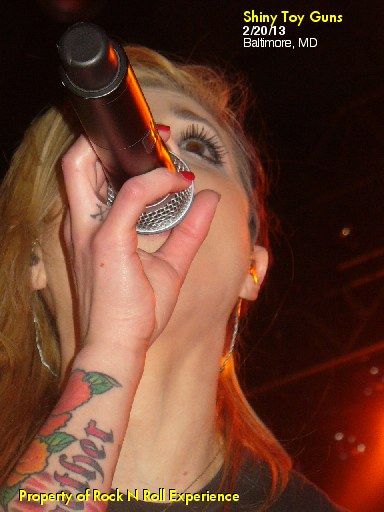 SHINY TOY GUNS
February 20, 2013
Baltimore, MD
Rams Head Live
Set List:
Intro, Carrie, Ghost Town, Somewhere To Hide, Ricochet, Le Disko, Don't Cry Out, Rocketship, Major Tom, Speaking Japanese, Fading Listening, Rainy Monday, You Are The One
I found it slightly ironic that one night I saw Shinedown & the next I saw Shiny Toy Guns....lotsa "shine", huh? Sorry, I just wanted to share that before I started this review!?!
Shiny Toy Guns are on a multi-band national rock tour & were direct support this night for The Dirty Heads...that should explain the crowd that showed up for this show & WHY they didn't seem extremely receptive to what Shiny Toy Guns played....The Dirty Heads are a mixed up hybrid of Hip Hop & Reggae while Shiny Toy Guns are an explosion of dark electronica coupled with pop & rock elements.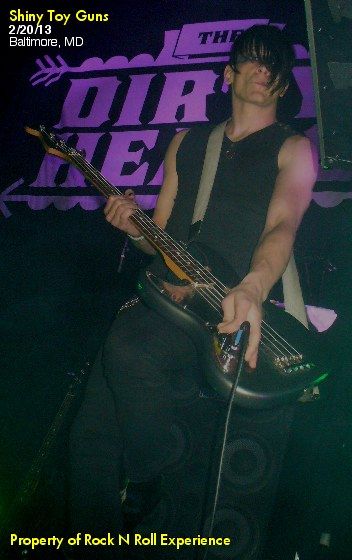 Sadly the sound for Shiny Toy Guns was sketchy at best and many times you could not hear vocals no matter where you were in the venue & I tested this point because I was directly infront of the stage for the first 3 songs & then went all the way to the back for the end of the set....no matter where you stood the sound was not clear, the mix was muddy and it's sad because the last time I saw Shiny Toy Guns they were on a headlining tour & they sounded really good!
"Major Tom" was a nice cover mixed into the bands set & at any given point the bands members switch instruments with the exception of their drummer who only played drums.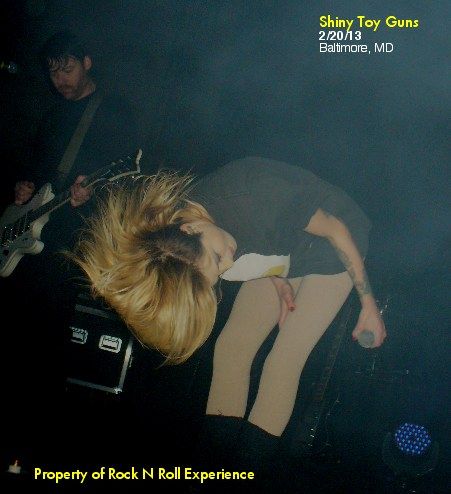 It's hard to believe that the last time I'd seen Shiny Toy Guns was in 2007...the bands grown up a bit, changed a little yet they still have the energy, the pop power & the dark moments that make their music & their style unique to what they do....I would have much rather seen the band doing a headlining set then it would have brought out their crowd...the Dirty Heads crowd was a mix of mall rats, hippies & Hipsters....the uniting factor amongst the crowd was the weed smoking which you could smell as soon as The Dirty Heads took the stage.