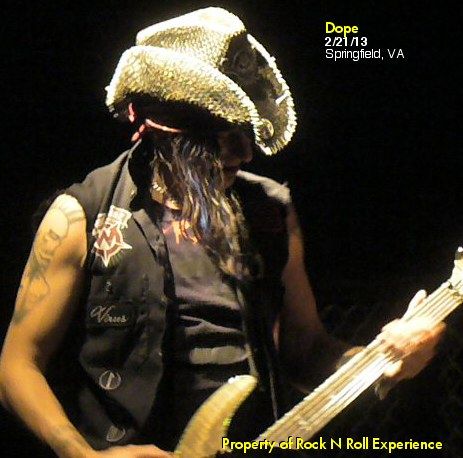 DOPE
February 21, 2013
Springfield, VA
Empire
"We are not a metal band!" - Edsel Dope
That was a direct quote from Edsel when he began talking about music & someone from the crowd declared Dope were a metal band....Edsel was on fire this night with his jokes, random banter & his constant begging for weed throughout the night.
The set was pretty standard & they were slated to go on at 10 PM but their set actually started close to 11 PM. The music portion of the show was around 45 mins in length with about 25 minutes of Edsel & the boys telling jokes, talking to the crowd & begging for weed.
Edsel finally got the weed he begged for & he smoked it for a few minutes until the venue took the PA & demanded they put out the weed immediately ...Edsil called it "Stage pot" & said it was fake but you could clearly smell it!
Set wise the only older stuff they played was a medley towards the end of the set plus they played covers of "Rebel Yell" by Billy Idol & "You Spin Me Round" by Dead or Alive.
"Now or Never" was my personal favorite of the night & at this point the only guy sporting dreads in the band is Trip while Edsel has shoulder length straight hair & Virus never took off his bandana/cowboy hat combo.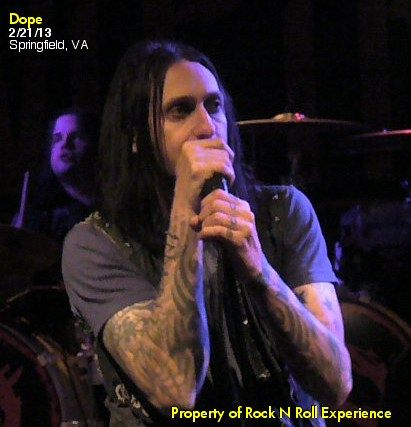 Dope has changed a little looks wise but sound wise they are 100% the exact way they always were & it's really sad that the band never went further than they did because they always deliver such a high energy, intense rock show.
The show took a tragic ending when Edsel began talking to 3 people up front...it was a boyfriend/girlfriend couple & next to them was the girls ex-boyfriend...so Edsel asked the guy why he split with the girl & the guy told Edsil that it was because he was black and she didn't like black guys...the guy in question was a very light skinned black man & Edsel went into a tirade about how the guy was not black & he even asked Virus, "a man who used to date alot of black women" (that's what Edsel said) and Virus told Edsel the guy was black...well, shortly thereafter Edsil was laying on the stage floor & Trip decided to jump off his onstage riser box & he landed on Edsel's chest...Edsil was seriously hurt & complained that he thought he'd broken his ribs...the band performed one more song before calling it a night.
Edsel said that getting hurt was karma's way of getting him back for making racist jokes that night & he blamed Malcolm X & Martin Luther King for him getting hurt!