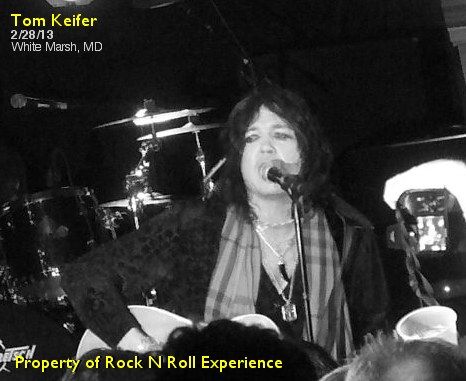 TOM KEIFER
February 28, 2013
White Marsh, MD
HOR
I've always believed that Cinderella's over the top glam image from the 80's was an albatross around the bands neck because the music they created really was a step above the other acts from that genre and if Cinderella came out in the 70's or even late 80's with a stripped down look that was more Aerosmith & less glittery I think the band would have been taken seriously & lasted much longer in the music business...sadly though the bands look was what lumped them in a genre that didn't really define their sound.
Tom commented that it took him 10 years to get to this point & what he meant was that he had vocal issues, legal issues & other "things" that made his current solo tour in support of his first solo record a 10 year venture.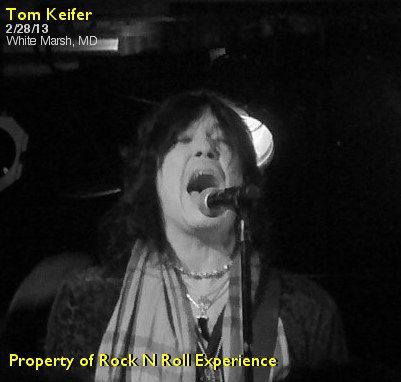 This show was the closing night of Tom Keifer's first ever solo tour & having seen many shows at this venue I can tell you that this was the most packed I'd ever seen the venue for a national show. What sucks about the venue is that the stage is very low and when it's packed you can't really see alot of the stage, it's mostly heads onstage with the drummer being the most visible member.
I was pleasantly surprised to see Tom had a full band with him which also included his wife singing backing vocals for many songs throughout the night....the show itself was set up as a very low key deal where Tom & co. came out playing a few new songs off his solo record which were rockers, then he went into an acoustic set & that led to the last portion of the show which was all electric & rockin'!
Throughout most of the show Tom would tell random stories & "Flower Song" he said was about finding the right person to spend your life with & he dedicated it to his wife...I thought that was a sweet gesture on Tom's part BUT the thing that made it awkward was when some of the older women in the crowd kept yelling "Tommy, I Love You!" despite the fact that his wife was there the entire time!
I won't sugar coat it, the crowd went crazy for the Cinderella songs & those were the clear crowd pleasers of the night..."Shelter Me" & "Gypsy Road" made the crowd go ape shit & one though I did have while watching Tom onstage was that he proved the point that he IS Cinderella...he put together another band with all new players & he re-created the exact sound of Cinderella minus the members of Cinderella....there's been so many other front men who tried to do that & just never hit the mark...Vince Neil, Sebastian Bach, David Lee Roth, Bret Michaels, etc., they all did the solo thing & when you saw their respective solo bands it was always a let down when they performed songs from their respective "bands" because when Sebastian Bach does a song like "I Remember You" with his solo band it NEVER sounds as good as it did when Snake & the original Skid Row backed him.....however, when Tom Keifer performs a song like "Don't Know What You've Got..." it sounds identical to the original version & it's because he is the primary guitarist & voice of Cinderella...not to mention he's way more talented than the aforementioned artists!
I will share a personal moment with you now: Before Tom started "Don't Know What You've Got..." he said that it was a song that he wanted to dedicate to his wife & everything that's led up to this point now because he went through alot of crap to be where he's at now & he doesn't take it for granted at all.....he came off really humble & was clearly appreciative of where he was in life & my lovely girlfriend came up behind me & wrapped her arms around me at that point where the song started & we held each other through the entire song....it was just a really tender/sweet moment I shared with her but anyways...
The nights encore consisted of "With a Little Help from My Friends" (Beatles cover) & "Gypsy Road". I can't say a bad word about the show overall, Tom gave it 100%, he sounded amazing, he's aged really well.... his voice sounded great, his guitar playing was solid & everyone in attendance was clearly content with the show they saw!