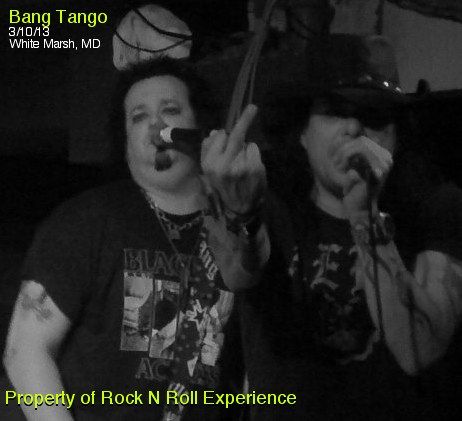 BANG TANGO
March 10, 2013
White Marsh, MD
HOR
Bang Tango is a band that had minimal success back in the mid 80's thanks in part to MTV playing the bands "Someone Like You" video and through the years the band has dwindled down to just one original member...Joe Leste.
Joe's performance can be good when he's sober and "rough" when he's intoxicated...sadly the performance on this night was a "rough" one due to his partying before & during the show. I actually had a brief conversation with Joe prior to the show & I asked him about the bands upcoming documentary movie....Joe's response surprised me because he stated that he had nothing to do with the movie, he had no details on it and he wasn't even sure why the guy was filming it because as Joe put it, "No One even cares about Bang Tango so I'm not sure why he's making a movie on us!"
I told Joe that I'd seen preview clips on youtube and that it looked good but Joe simply stated that he had no clue about the movie, that he simply answered questions he was interviewed by the guy making the movie and that he had little to do with the film. Joe also told me that the band had changed their set list quite a bit due to the bands new drummer.
Set wise Bang Tango played 2 Beautiful Creatures songs, "Ride" & "1 AM" which sounded ok but lacked the energy that Beautiful Creatures had.
Joe's onstage banter was slurred, weird & he spoke non stop about the band recently opening for Queensryche and he later said, "Thank you, we're Bon Jovi!". Joe later went on to ask the tiny crowd to give him & the band shots BUT no one responded & the band never got the shots they requested.
The last time I saw Bang Tango they were fairly decent but it feels like the band is a sinking ship at this point & it's sad that Joe continues to give these kind of performances because the hand full of fans they have left will eventually stop supporting this train wreck if Joe continue to give these bad performances.
The only highlight of the show was "Wrap My Wings" which has been absent from the bands set list for quite some time BUT they also skipped "Love Injection" which was an odd track to skip considering it's one of their more popular songs.
Click here to "Like" Rock N Roll Experience on Facebook