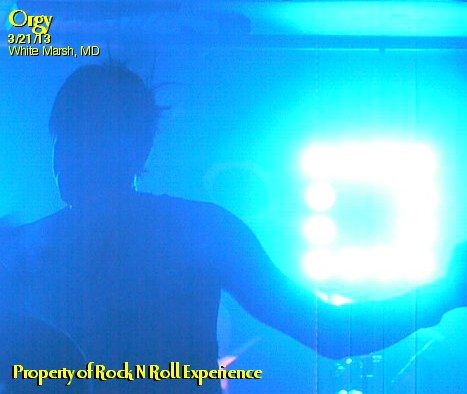 ORGY / DAVEY SUICIDE / VAMPIRES EVERYWHERE
March 21, 2013
White Marsh, MD
HOR
Initially this show was supposed to start at 8:45 PM but for some reason it kicked off after 9 PM with Davey Suicide as the opener....the opening set by Mr. Suicide was a blur of baby powder, flashing lights & dark imagery which was sadly not backed up by solid music.
Davey Suicide is best remembered in the Maryland area as the front man for Goldmine Squad & Havok in Hollywood but his current band is much darker than the aforementioned acts with the band's looks being somewhere between Marilyn Manson & Combichrist. I remember Alice Cooper once saying that Marilyn Manson didn't become legit till he had a hit single to back up his looks and sadly the same can be said for both Davey Suicide & Vampires Everywhere who both have cool looks but thus far neither have the song writing prowess which boosts the band beyond their looks.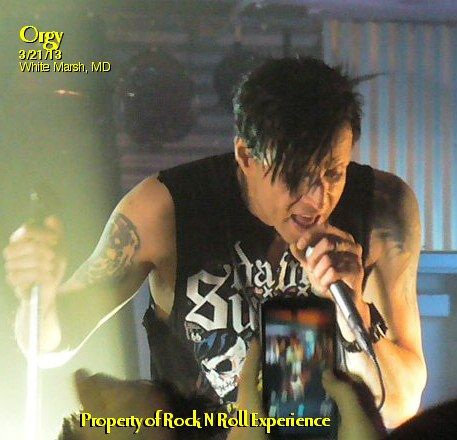 Davey & co. took the stage ala old school NIN covered in baby powder which pretty much choked all who were up front and while the bands looks were cool & creepy....the music was forgettable because there was just nothing catchy or hooky to make you remember it.
Vampires Everywhere were direct support for Orgy and their set was plagued with audio issues so it's not really fair to give them a bad review when you realize that their bass guitar was cutting totally out through a good chunk of their set & the lead guitar was too low to hear so the mix was really messy.....the only thing I really remember about Vampires Everywhere is that they did a weird cover of "Rape Me" by Nirvana & as Michelle pointed out to me the singer has really big teeth!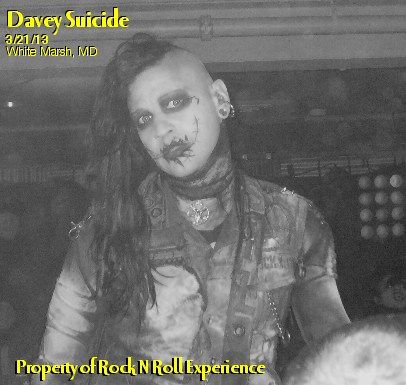 Orgy were up next & they actually played much later than I expected with their set ending just before midnight. Orgy brought these cool square LED lights which brought a large concert feel to the tiny club & it added an element of dance club to the rock club they were playing but the thing I will bust on Orgy for is that it's not really Orgy...it's the Jay Gordon Experience! The only original member of Orgy at this point is Jay & while the band does a great job of paying homage to what the original band laid down it's just not the same as the original band!
"Stitches" was my personal favorite of the night & it was followed by the nights closer "Blue Monday" which featured Davey Suicide onstage singing while Jay sang from the crowd.
Orgy sounded good but certain older songs sounded a bit off to me & I think that was due in part to the current band reinterpreting the songs a bit compared to the original versions played by the original band.
The funny notion is that Orgy really are a one hit wonder & their one hit is a cover....I give Jay credit for going on the road & performing Orgy music because he still has the same energy he had back in the day but sadly the fan base for Orgy has really dwindled in 2013 & the Phil Lewis version of LA Guns can pack in more people than Orgy can in 2013!
Click here to "Like" Rock N Roll Experience on Facebook