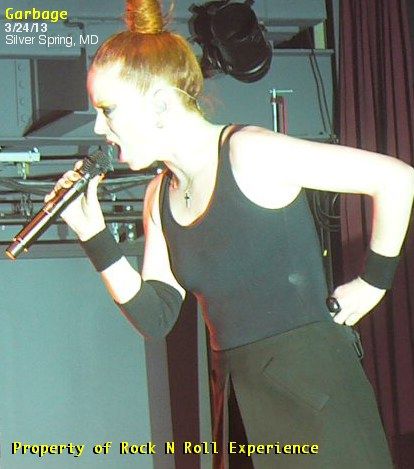 GARBAGE
March 24, 2013
Silver Spring, MD
The Fillmore
Set List:
Supervixen, Queer, Automatic Systematic Habit, Hammering in My Head, Blood for Poppies, Special, Why Do You Love Me, #1 Crush, I Think I'm Paranoid, The One, Cup of Coffee, Cherry Lips, Man on a Wire, The Trick Is to Keep Breathing, When I Grow Up, Only Happy When It Rains, Vow, You Look So Fine / Dreams Play (Fleetwood Mac cover), Stupid Girl,Push It, Beloved Freak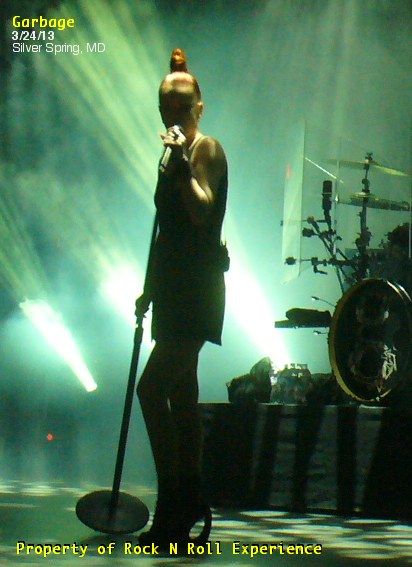 The 2012/2013 "Not Your Kind of People" World Tour was a triumphant return to the concert stage for Garbage....the band came back after an extended hiatus to find that it's fan base was still in tact with sold out shows at every stop which proved that the world still yearns for the alt rock super group!
This was the 2nd time the tour played the area Maryland and on this go round the band revamped their set to include atleast one song from every record they've recorded plus on this night there was an acapella rendition of Madonna's "Like a Virgin"!
Doors opened at 7 PM and the show started at 8 PM with a very forgettable opening act who's only notable mention was that they used wall dividers to cover up their small amps
Garbage took the stage at 9 PM opening with "Supervixen" which was the perfect opener because it was from the record #1 which put the crowd in the groove and it reaffirmed that the band was back!
The stage was rather simple with a large meshed backdrop that covered behind the band and if you examined the bands stage closely the noticeable thing was that they had no onstage amps!
Shirley's voice sounded clear & just like it does on the record while Duke & Steve's guitar/keyboard work was solid with just an occasional flub if you listened very close.
It was interesting to see/hear the band playing so many slower songs on this tour stop..."Cup of Coffee" was probably the stand out slow track simply because it hasn't been played since the bands "Beautiful Garbage" tour and it sounded amazing!
If you watched closely you saw Shirley change her heels after the 3rd song in the set and I give her credit because she's held up well vocally throughout the years....her voice still sounds good at 45 years of age!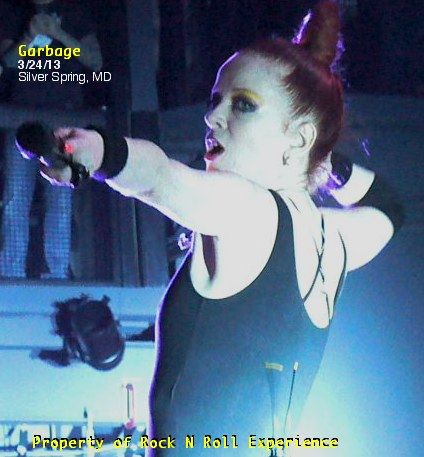 "Cherry Lips" was dedicated to all the men who like men, women who like women & transgendered people while the bands reinterpretations of "Only Happy When It Rains" & "Stupid Girl" made those 2 classic songs sound fresh for 2013. For me personally "Vow" was the stand out track which had the most power, energy & it was probably the heaviest track in the set next to "Why Do You Love Me".
Shirley told the crowd that the band was working on a follow up to "Not Your Kind of People" and that the band would be back once it was released so it's nice to know that once this tour ends Garbage will be back with more new music & another new tour at some point!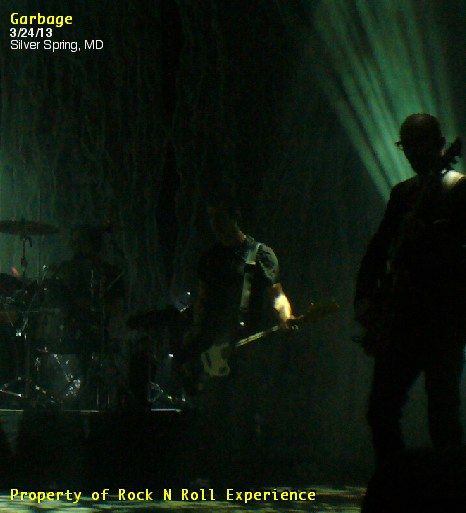 The bands choice to close with "Beloved Freak" was interesting because they chose to close the show on a low note with a mellow track as opposed to closing on a high note with a single that everyone recognized....all in all the show was amazing & Garbage gave the crowd a solid 2 hour show!