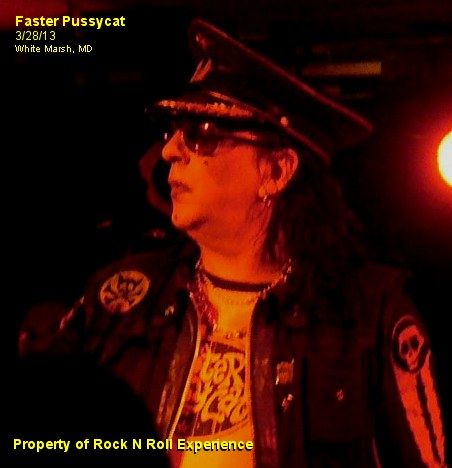 FASTER PUSSYCAT
March 28, 2013
White Marsh, MD
HOR
When you go to see an 80's hair band in 2013 you must realize that it's nothing more than nostalgia and if you expect any artist to be exactly how they were nearly 30 years prior you will almost always be let down because no band remains the same in regards to sound, looks, or it's actual original members after a certain point.
Faster Pussycat are down to just one original member and to his credit Taime Downe has kept the bands name alive by touring randomly since the bands inception yet the oddest fact is that throughout the bands 30 year career they've only released 4 studio records!
Faster Pussycat are a nostalgia act for most old school fans even though Taime tosses in newer songs like "Porn Star" & "Pride & The Glory Hole" because most fans only care to hear "Bathroom Wall", "Babylon" & "House of Pain".
On this night I was impressed the band managed to pull in 120+ fans to see their show on a Thursday night and while Taime's vocals sounded horrendous the band itself did a great job at covering the classic Faster Pussycat material.
Tossed in the standard set were "Shooting You Down" & "Don't Change That Song" which the band hasn't played live in many years and "House of Pain" was dedicated to a local girl who passed away recently.
All in all the show was fun if you went with an open mind because Faster Pussycat were never a great band to begin with, they were a sloppy glam rock band with catchy hooks & sleazy choruses...in 2013 the band is still the same just a bit older & a bit darker.
Click here to "Like" Rock N Roll Experience on Facebook