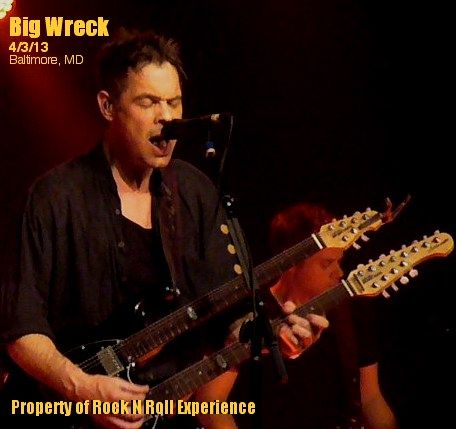 BIG WRECK
April 3, 2013
Baltimore, MD
Soundstage
It's ironic that Big Wreck are a Canadian based band yet were formed in Boston, Massachusetts by singer/guitarist Ian Thornley. The band garnered all of their success via the Canadian music scene and they rolled through the Baltimore area in support of their 2012 record "Albatross" on April 3, 2013.
Big Wreck had a small crowd and it was actually interesting to witness the small crowd singing along to almost every song the band performed because they only have one song on current rotation on local rock radio, "Albatross".
There was a triple guitar attack onstage yet the music was a tad drawn out at times with jams that were a bit too scripted and text book... most of their songs saw the band rely heavily on rhythm and the guitar solos were not very heartfelt but I will admit the slide guitar work in some parts did add a nice tone to the bands music.
All in all the show was solid, the players onstage were clearly professionally trained and that's where they lack some flavor because a rock n roll band is supposed to be a tad sloppy & less polished...Big Wreck are a well polished, by the book sounding rock band & they sound identical to what you hear on their records....their sound is amazing yet their performance is a tad boring to watch.