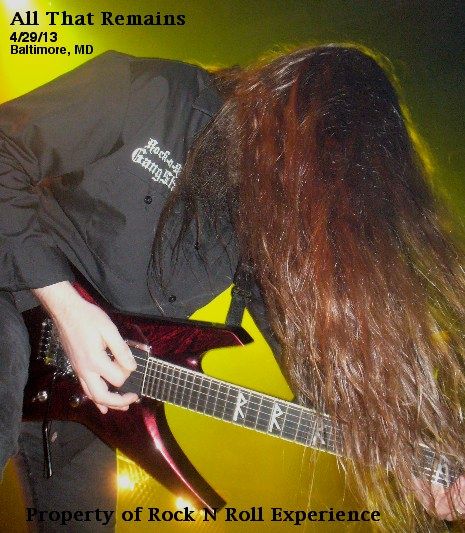 ALL THAT REMAINS
April 29, 2013
Baltimore, MD
Rams Head Live
Support acts for this bill included local favorites Rome Apart & Sky Came Burning but sadly I arrived just towards the end of Sky Came Burning's set...the openers started at 7:30 PM sharp & the entire show was over by 10:20 PM!
All That Remains changed their set list a bit and their stage set up was very gritty looking with a large fence set up complete with barbed wire which covered the bands amps & once the show started the fence material revealed large lights that created an "arena rock" feel. The trash cans that adorned the sides of the drum kit actually had small holes in them which radiated small specks of light when the house lights were dimmed.
All That Remains tore it up with a solid set that was more hard rock & metal than hardcore...the band has refined their sound and style over the years and at this point the guitar work is a pure shred fest complete with amazing guitar solo's and awesome timing changes that make the bands music sound perfect!
I will note that the crowd turn out was alot smaller than expected because the entire 2nd level of Rams Head was not opened due to a small turn out but the entire floor/pit area was packed so there were plenty of people at the show!
All That Remains set list:
Some of the People, Stand Up, Last TIme, Won't Go Quietly, Air, Down Through The Ages, Six, Asking, Tremble, For We Are Many, Forever, Rape, Dead Wrong, Hold On, This Calling, War, 2 Weeks