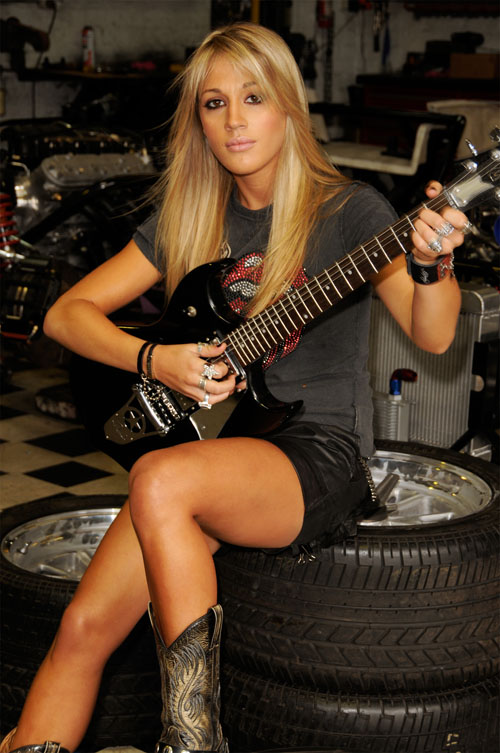 An Interview with Laura Wilde
On August 16, 2013 Ted Nugent with special guest Laura Wilde play Ram's Head Live in Baltimore and as a nice little teaser for the show, here's a chat I had with Laura Wilde!
Rock N Roll Experience: This will be your 2nd tour with Ted Nugent...how was the first tour with him?
Laura Wilde: It was just amazing, I mean touring across the country, it's an incredible experience and you get to play shows every night which is like a dream and (we) make so many new friends across the USA.
Rock N Roll Experience: How did you get the opening slot on the Ted Nugent tour?
Laura Wilde: I was working with a publicist at the time who coincidentally was Ted's first publicist and she thought we'd be a great touring match so yeah, the rest is history.
Rock N Roll Experience: Is it hard to open for Ted Nugent?
Laura Wilde: Yes...for the first 3 songs they are kinda just sussing me out & seeing what the music's like but by about the 4th song that's when they start to get into it & by the end we are all having a great time.
Rock N Roll Experience: Were there any shows where the crowd harassed you at all?
Laura Wilde: Luckily no, not yet (laughs), we've still got about 30 dates coming up so that may change.
Rock N Roll Experience: Did you party with the Ted Nugent band?
Laura Wilde: Yeah, we caught up with them after the shows a few times but I wouldn't really...we don't party that hard we just hang out & un-wind after shows.
Rock N Roll Experience: Who are some of your musical influences?
Laura Wilde: I grew up listening to 90's bands like Greenday, Foo Fighters, Nirvana, but as I got older I started to dig deeper & listen to the bands that influenced them so there's a whole bunch dating from every decade from Guns N Roses in the 80's to Elvis in the 50's & Robert Johnson in the 30's but my music is really a mixture of influences from a whole range of different stems of rock n roll such as Black Sabbath, AC/DC, Led Zeppelin, ZZ Top & Glam bands like Sweet, Slade, T Rex, & punk bands like The Clash, The Ramones, Sex Pistols & the list goes on & on.
Rock N Roll Experience: Have you heard the new Black Sabbath record?
Laura Wilde: Yes, I am actually setting in front of it right now, (laughs) and we streamed it live on Spotify the day that it came out. I am a huge fan & that rocked my world.
Rock N Roll Experience: Have you jammed onstage with Ted Nugent yet?
Laura Wilde: I haven't but hopefully I might be so lucky.
Rock N Roll Experience: What song would you like to perform with Nugent?
Laura Wilde: Hopefully a bluesy song, I mean he did "Red House" last year in his set so depending upon whether or not that's still in the set that would totally be my dream or "Stranglehold".
Rock N Roll Experience: When this tour ends what's next for your band?
Laura Wilde: We've got a new record in the works so we are just working on writing that at the moment so after the tour is over we will be hitting the studio & then getting it all under way.
August 16, 2013 Ted Nugent with special guest Laura Wilde at Ram's Head Live in Baltimore
Click here to "Like" Rock N Roll Experience on Facebook