TAP ROOT
June 29, 2013
White Marsh, MD
House of Rock
Animated, weird, wacky & ear wiggling....all words I'd use to describe the Tap Root show on June 29th at the House of Rock in White Marsh. The band was on fire when they performed the "Gift" record from start to finish and to my surprise they actually packed in a decent crowd...I say that primarily because the band went away for a bit and sadly they never truly achieved the success that their peers from the 90's did.
Lumped between Korn, Papa Roach & Deftones, Tap Root came out during the Nu-Metal 90's and their chunky tuned down riffs coupled with tight rhythm and screamo vocals made the band an instant fan favorite for that era.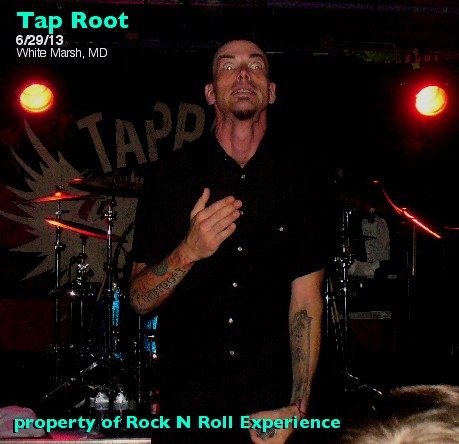 I joked earlier about ear wiggling and what I meant by that is if you see the bands live show their singer will stop and stare at you...you have to pay attention closely to notice he's actually wiggling his ears at you...the man interacts quite well with the crowd, he'll grab fans cameras & iphones to record onstage footage for them, he rubs peoples heads as a show of love & he makes the goofiest faces when a camera is pointed at him...out of all the Tap Root shows I've seen this was clearly the most energy driven I've ever seen the band & they stuck to a set that was primarily all older material with none of the bands most recent material tossed in!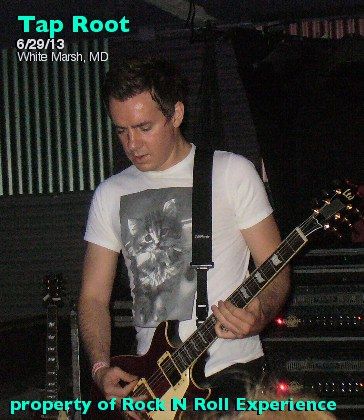 The band played almost exactly 45 minutes and then exited the stage...the crowd was chanting for an encore but the band walked away and one of their roadies took the mic to inform the crowd that there was Tap Root merch for sale in the back of the club. The venue cleared out rather quickly for a Saturday night and I'd say this was definitely the best Tap Root performance I've ever seen!