AFI
1/28/14
Baltimore, MD
Soundstage
When it was announced that AFI were playing Baltimore Soundstage I was skeptical as to whether or not the announcement was legit simply because AFI are too big to play Soundstage in my opinion BUT the concert did happen on January 28, 2014.
The show was totally sold out and the crowd was packed in tight. The weather outside was in the low teens which meant the kiddies who camped out early in the day to get up close had frozen their asses off just to get those prime standing room only spots.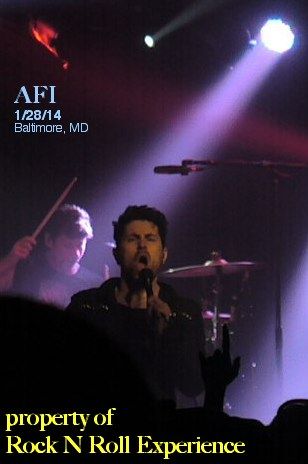 AFI played a rather short set that was just a little over 70 minutes give or take and to their credit they played all the "hits" alongside older favorites with a few new songs off their latest release tossed in.
Davey is looking alot like "Faith" era George Michaels these days and the bands live sound mix was superb this night.
The show ended promptly at 10:30 PM and despite it being a short set AFI gave the kiddies a great show.
I'll admit that the crowd was actually a tad more colorful than the band on this night and a certain friend was taking my attention away from the band...
Click here to "Like" Rock N Roll Experience on Facebook & to see live vids & pics from this show!