DRIVE A / 10 YEARS / NEW MEDICINE / HOLLYWOOD UNDEAD
April 13, 2011
Baltimore, MD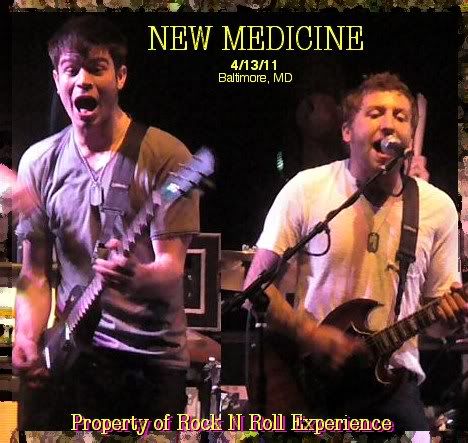 "The Revolt Tour" 2011 is an interesting mix of musical styles; there's hip hop, hard rock, punk rock & metal!
On a side note, 2 blocks from this same venue, Canadian radio rock superstars Three Days Grace along with that "Porn Star Dancin'" band My Darkest Days were playing a sold out show & in my mind I've always thought that it's a bad idea to have too many rock shows on the same night in the Maryland area & the simple logic behind it is that the "rock" fanbase isn't that huge in this area, not to mention this was a Wednesday night and when a really big band plays here a smaller show will definitely suffer to some degree because alot o' times the bands share the same fanbase! To my surprise, the Hollywood Undead show did pretty damn well & it wasn't totally sold out but it was definitely packed in pretty tight!
Doors opened at 6 PM for the show & New Medicine took the stage not too long after doors opened. When I arrived a little after 6 PM-ish New Medicine had already started their set!
New Medicine are a fun live band and the first time I saw them was when they were opening for Avenged Sevenfold on the A7X "Nightmare" arena tour.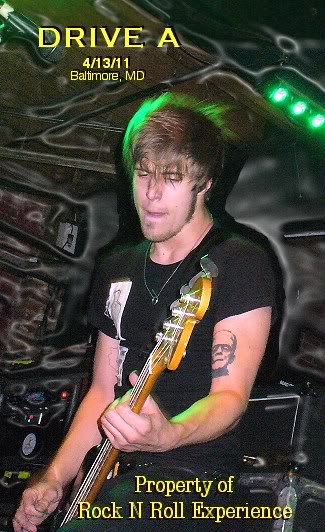 New Medicine sell their music much better on a mid sized stage as opposed to the large arena stage where I was first exposed to the band. The music New Medicine play is a mix of pop, punk, rock & alternative; the bands singer is the focal point & anchors the band well with his distinctly 90's sounding vocals yet I still believe the bands drummer is the star of the live show!
"Rich Kids" was the closer of New Medicine's set & it was the sign of a small break between sets for both the crowd & crew....this was when the Drive A guys would start to set up their gear & the New Medicine guys would turn into super-hucksters!
I witnessed the New Meds boys in action once before & I saw them do it again on this night as well...their live show where they play music is one part of their show...the other part is when they get done playing because almost immediately all 4 members of the band walk through the entire crowd with a large box of cd's & a sign saying "$15" & watching kid after kid buy a cd, get it autographed, ask for a picture....the members of New Medicine are born salesman & it's quite comical to watch them do that...they obviously have a job in sales if the music thing doesn't pan out!
Drive A set up their minimal stage space with the bare essentials; a few amps, a small drum kit, a few mics, the bands guitars & the 4 guys that make up Drive A!
Bruno & Jason wore the bands colors for the entire set & when I say the bands colors I am referring to the standard blue denim jacket with sewn on Drive A patches and the bands rhythm section was sporting simply the Drive A black t-shirts.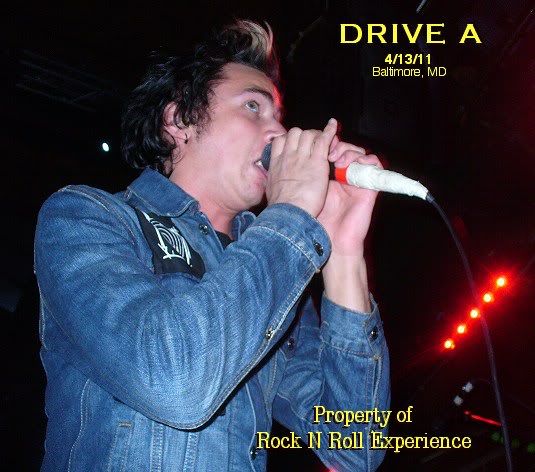 I've actually watched Drive A grow up these past 2 years and at this point the band is probably in their prime; Jason has really came into his own as a player, he owns the stage as he slams into his chords with passion & fury.
Bruno is a non-stop jumping machine & the only big difference I noticed with this particular show was that Bruno didn't spend quite as much time in the crowd as he had at all previous Drive A shows I've seen. The bands set was mostly all new material with only 2 older songs in the set.
When I spoke to Jason after the set he gave me a copy of the bands new CD & it's a fast, intense listen from start to finish...my only quip is that the language might hold the band back from possible exposure via radio or other mediums...the song "Young Cunts" is kinda funny, but also an instant death sentence if you are looking for mainstream exposure that's not on the controversial side.
Infact, there's actually a cool ballad on the new Drive A record, but what makes it a song that won't get radio play without some serious editing is non stop use of the "F" word....I guess Drive A are not ready to play safe & go for mainstream success...it's not a bad thing, it's just a serious gamble & for what it's worth Drive A have a kick ass live show that you must check out if you like live Rock N Roll!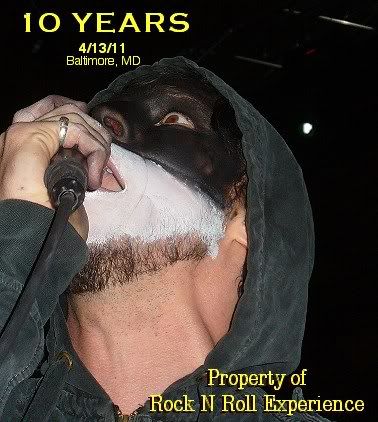 10 Years was next on the bill and I'll admit that I was thinking to myself, 10 Years are next & they will bore the shit outta this crowd!
I thought that way based on an older performance I saw from 10 Years...back a few years ago the 10 Years live show was a bit impulsive & overly indulgent; the show was more or less based after the more boring elements of Maynard from Tool.
What I didn't expect was seeing lead singer Jesse Hasek taking the stage sporting a black hoody which covered his fully painted black & white face!
The 10 Years set was fast paced, angry & hard rockin rage!
10 Years played a tight set that didn't let up till the very end & I'll admit that the band impressed me with just how intense they were at this show...from start to finish they killed it & yet another surprise for me, the band didn't play their biggest hit, "Beautiful"!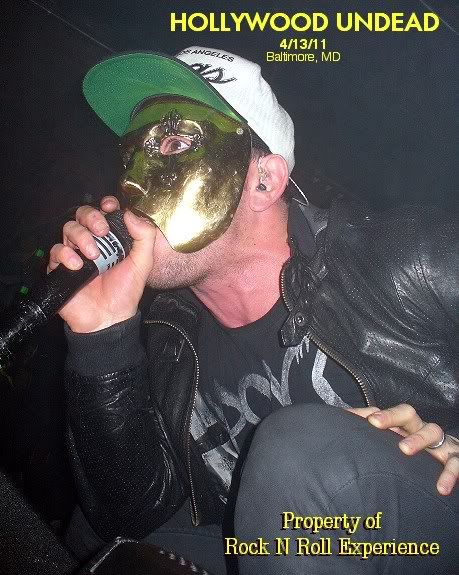 The last time I saw Hollywood Undead they were on that same billing as New Medicine which was the Avenged Sevenfold "Nightmare" arena tour...Hollywood Undead were bitches about issuing photo passes on that tour & it's why I was pretty much writing them off for coverage on this tour but when I asked about photo privileges I was told that one pass was good for the entire show so that meant I was cool to photograph Hollywood Undead this night so that meant I was going to stay for their entire set!
Hollywood Undead took the stage amidst the bleak dense thud of a heavy fog machine & set wise they did the same stuff they did on the Avenged Sevenfold tour, the members sported masks for the first few songs, they swapped rhymes, traded instruments, rocked the mic(s) & the nights encore consisted of "Everywhere I Go" & "Here Me Now".
Funny observation: Hollywood Undead are doing serious business these days, their tour is selling very well, they sell alot o' shirts to the mall kids at Hot Topic, yet they still don't have monogramed guitar pics that have their name on it...the band uses stock orange guitar pics with no band name/branding on it!
All in all this was actually a good show and what I realized when the show was over was what the point of this billing was all about: At first I thought it was the most mismatched billing I've ever seen...on paper it comes off like 4 bands that have nothing in common with one another, but when you see the show for what it is, this show offers 4 bands that are honing their craft, 3 of the 4 bands have had top 10 rock radio hits & this billing is a glimpse into both the current state as well as the future of modern rock! The 2011 Revolt Tour was a full-on success in my eyes & on a personal note I want to thank Jason for all his help.
Whether you like Hollywood Undead or not, they have a really rabid, rather large fanbase that loves the band and at the end of the day it's never the critics choice that matter, it's the fans choice...I may not be the biggest Hollywood Undead fan but I have to give them props, they deliver a solid performance & their fans eat it up!