SALIVA / FUTURE LEADERS OF THE WORLD
November 14, 2014
Fish Head Cantina
Baltimore, MD
Josey Scott was the face/voice of Saliva. Once he announced his departure from the band in 2012 I had personally written the band off because I had a hard time imagining Saliva without Scott. In 2014 Saliva is actually a stronger, more vibrant, and much better band than it ever was with Scott!
Click here to see Saliva's "Hair Band Medley" from this show
Future Leaders of the World were direct support for this show and their set was a solid 45 minutes of 90's styled rock which was cut short by a few minutes.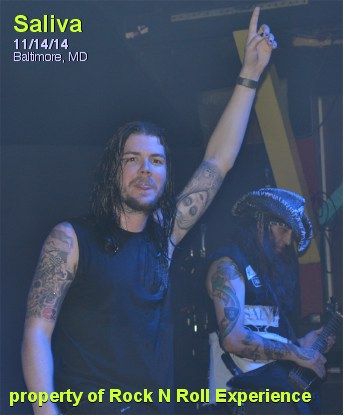 I was impressed with the amount of people in the room because I had no idea Saliva still had that kind of draw at this point. My stab at the head count would be somewhere around 250 which is good for that area on a Friday night.
This show was my first time seeing Saliva sans Scott and I was a tad skeptical as to whether or not the band would be solid with their new singer....hands down, Bobby Amaru blows Josie Scott away!
Most of the set was material from the bands earlier releases with just a few new songs mixed in. Bobby is a thin, lean, rock n roll machine and he kinda looks like Josey Scott's thinner, better looking cousin!
"Click Click Boom" sounded great and the energy Bobby adds to the band gave that older song new life! Tossed in the set were loose moments where the band messed around & toyed with cover songs.
Click here to see Saliva's cover of "TNT" from this show
"TNT" by AC/DC was played in it's entirety and towards the end of the show they did a "Hair Band Medley" which included "It's Not Love" by Dokken, "Mr. Brownstone" by GNR, and "No More Tears/Ultimate Sin" by Ozzy.
"Your Disease" closed out the night and the crowd went wild...there's no denying this was a kick ass rock show!
The last few times I saw Josey with Saliva those shows were slow, sluggish, and lackluster.....with new singer Bobby A. Saliva are a new band with new energy and new enthusiasm.