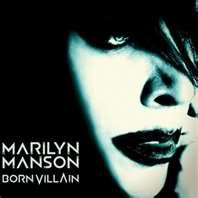 Born Villain
Track Listing:
Hey Cruel World, No Reflection, Pistol Whipped, Overneath The Path of Misery, Slo Motion, The Gardener, The Flowers of Evil, Children of Cain, Disengaged, Lay Down Your Goddamn Arms, Murderers Are Getting Prettier Every Day, Born Villain, Breaking The Same Old Ground
Upon tearing the cellophane off the new Marilyn Manson disc I'll admit that I was quite let down with the lack of artwork...the case is a minimal digipack, very black and the lyrics are not even included with the packaging....you have to go to bornvillain.com to get the lyrics!
So the first track reaffirmed that Manson was back & I'll give him credit, "Hey Cruel World" captures the essence of "Antichrist Superstar" quite well...the song is heavy, angry & direct BUT the thing that's not totally there is the production & that's where Trent's hand was utilized in Manson's first 2 records.
"No Reflection" is the lead single off this record and it's simple & heavy...it reminds me of the "Armageddon" single off the previous record on various levels because it's almost fluffy compared to other songs on the "Born Villain" record.
"Pistol Whipped" is the best song Manson has recorded in the last 5 years or so and it's an equal mix of old school Manson with a touch of the "Golden Age.." sound & vibe.
The interesting thing with this record is that Manson's vocals sound rich & strong yet the youtube clips posted from the recent 2012 tour show Manson with a lazy sounding vocal tone and I give it to Manson for actually releasing a good sounding product with songs that represent the brand of MM very well.
"Overneath..." starts off with a spoken word piece that reminds me of the beginning of "Portrait of an American Family" alot and when the song finally kicks in it has a great high/low dynamic that's fresh sounding and really does sound like the MM most old school fans fell in love with many years ago.
What I will say though about many songs on this disc such as "Overneath..." is that the guitar parts are lacking in creativity & the differences between John 5 & Twiggy are clear because John 5 would have utilized better fills and Twiggy left some parts open.... when I hear some breakdowns I can't help but think that there could have been some slightly better guitar parts and fills.
"Slo Motion" has a cool sounding progression BUT again I'll say that the instrumentation & writing on a musical level is just lacking because I feel like something is just missing musically when I listen to alot of this record.
"Slo Motion" has funny lyrics & I'm not sure if Manson was trying to be shocking or goofy with things he says in that song...the guitar solo SUCKS & I guess it's the best Twiggy was capable of so I'll give him a sloppy pass on that.
"The Gardener" starts with a spoken word intro & leads off with simple bass & drums....again it shows the limited guitar skills quite well and when the song kicks in it has a slightly pop vibe to it.
"Disengaged" sounds like a left over from the "Golden Age" sessions which just wasn't good enough for the GAOG record & "Lay Down..." has a cool guitar intro that's actually a tad bit different than anything MM's done prior which I kinda dig .....it's a tad different although the pre-chorus reminds me of "Always" by Saliva
"Murderers Are Getting...." reminds me a little of "Burning Flag" off the Holy Wood record because it's an angry rocker and it's a bit more memorable than some tracks off this cd.
The records title track reminds me of something Bowie did with Trent Reznor & the records closer is a mellow song called "Breaking The Same Old Ground" which, as the title explains, is a song very similar to everything else MM's done prior...it's a slow song that mixes "Unkillable Monster" with "Coma Black" & "15".
The records bonus track is a cover of "You're So Vain" and features Johnny Depp....I have to be honest & brutally truthful with my feelings on this track and say that the version Faster Pussycat did many years prior is far superior to this MM cover....why MM chose to cover this song I will never know because it's not that good and it actually detracts from the record because "Breaking...." was a good was to close out the record; closing this record with a crappy cover was a bad move & for the record I'm not just a jaded music critic, I am actually a fan of Marilyn Manson's music and I just personally believe that ending this record on that cover was a bad move.
As a completed body of work the "Born Villain" record is solid. It's not the best music MM's ever released nor are these the best lyrics MM's ever written but for an artist who's 20+ years into his career this isn't his worst record ever. "Born Villain" is a valiant attempt to win back the core MM fan base with fading moments of shock rock, a healthy dose of aggression and a touch of the old school MM style.

---
SINS
Track Listing:
Spite, Unstoppable, Man Of Constant Sorrow, Still Alive, Walk Away, Devil Is A Woman, Start It Up, Love N War, Blame, Problems, All You'll Ever Need
The Sophomore release from Charm City Devils took just a bit to grow on me because I was so used to this bands blues based rock n roll style and when you listen to their latest release "SINS" the blues based rock is stripped away....the bulk of this record is heavy, dark & deep with the band veering off into new territory on almost every track!
"Man Of Constant Sorrow" is the lead single off this record and business wise it was a smart move to re-record a classic traditional song in a rock way because the commercial appeal was amazing for this track & it helped the band gain radio airplay across the USA!
"Still Alive" is the song that really hit me hardest because the lyrics deal with the personal struggles John Allen went through since the last record and for those uninformed Charm City Devils grew as a band over the course of touring for their debut release and there were many personal battles the band & John had to deal with...all of which were tackled via every song on this record and the cool thing about this record is how there's a very dark quality to the themes yet there's also a positive to it all because they survived to tell their tales!
"Devil Is A Woman" actually has a very modern sounding country vibe to it and that's the song I truly believe could cross over the band into different markets if they promote it correctly because the song has a country vibe to it that could easily gain the band a totally new fan base!
"Start It Up" is a chunky rocker with cowbell and "Love N War" might be the fastest song pace wise the band has ever written...it really gives Jason a workout on the drums!
"All You'll Ever Need" is this records "Best of the Worst" and what I mean by that is "Best of the Worst" was the debut records token ballad and what some considered to be the best song off that record..."All You'll Ever Need" is the song that closes this record and it's absolutely touching & beautiful!
"SINS" is a good 2nd release for Charm City Devils and I give it to the band for making it to record #2 after all they went through since the release of record #1.
---
Before The Sun Rises
Track Listing:
For Feeling, Ghost of You, Cello, Beet, Constellation Baby
I will go out on a limb and say that this is the sweetest sounding release I've heard in 2012 and what I mean by that is, listening to this cd through headphones the music, the vocals, the synths, the overall production....this record takes you places and it's a beautiful listen from start to finish!
The music is synth pop and it's all very catchy, the vocals are soft & stylish while the music is mellow yet has a drive to it.
The art matches the music in it's unique flavor and this cd gets a very high recommendation from Rock N Roll Experience because it's just so easy on the ears and sonically pretty.
---
TWISTED SISTER
Live at Hammersmith
Track Listing:
Disc #1
What You Don't Know, The Kids Are Back, Stay Hungry, Destroyer, We're Not Gonna Take It, You Can't Stop Rock N Roll, Knife In The Back, Shoot 'em Down, Under The Blade
Disc #2
Burn In Hell, I Am I'm Me, I Wanna Rock, SMF, We're Not Gonna Take It, BONUS TRACKS Live @ Detroit '79, Jailhouse Rock, Train Kepta Rollin'
This double disc set sums up what Twisted Sister were in their prime. Captured in 1984 at the Hammersmith in England, this 2 cd set is a raging, venomous monster that has Dee Snider's fangs all over it with non stop rock n roll anthems that really explain WHY the force known as Twisted Sister was so amazing & powerful in it's prime!
All the hits are here and this is the collection that's perfect for both the casual TS fan and the diehard because everything's here!
The 2 bonus tracks are cool amped up covers & I will admit I prefer the Aerosmith cover of "Train Kepta Rollin'" but I did enjoy TS's rendition of this song too!
---
TWISTED SISTER
Club Daze Volume II, Live In The Bars
Track Listing:
Never Say Never, Blastin' Fast & Loud, Follow Me, Under The Blade, Lady's Boy, Come Back, Can't Stand Still, Honey Look Three Times, You Know I Cry, Without You, Plastic Money, Long Tall Sally, Johnny B. Goode
The first 2 tracks on this record are studio tracks that consist of drum tracks recorded during the "Stay Hungry" sessions & the band recorded music in 2001 to the drum tracks so it's kinda new/old music from the band if you will.
Track 3 - 13 are live radio broadcasts & the band is shown in all their early rawness & gory glory via tracks like "Under the Blade" & "You Know I Cry" which were early fan favorites for the band back in the late 70's & early 80's before they became MTV darlings!
The source recordings for this cd vary and so does the sound quality BUT to be honest with you, live rock n roll isn't supposed to be perfect and therefore I dig the sound variations on this cd!
Overall this is a cool compilation of early TS material & the 2 covers at the end of the disc are a bit cheesy but sum up TS very well!
---