Choice of Weapon
Track Listing:
Honey From A Knife, Elemental Light, The Wolf, Life > Death, For The Animals, Amnesia, Wilderness Now, Lucifer, A Pale Horse, This Night In The City Forever, BONUS TRACKS, Every Man and Woman is a Star, Embers, Until The Light Takes, Siberia
Allow me to start off this review by stating that I absolutely adore this new Cult record...it picks up where the bands last full length record left off with a modern sounding rock n roll feel and Ian's vocals sound amazing while Billy's guitar tone is pleasing to the ear! The band did a great job of putting together a kick ass rock record that's pure Cult from start to finish!
"Honey From A Knife" has a fast pace with a chorus that features "Johnny Rotten" sang in the background and it's a great starting track which sets the pace for the record quite well! ALL old school Cult fans will be very pleased when they hear this song because it's got the old school sound mixed with a modern flair!
"Life > Death" is the song that honestly gripped me & I've not been able to get it out of my head because it's a slower paced song which reminds me of classic 70's rock balladry ala Bowie & T-Rex...it's so moving that I'll say for the record that it's my favorite song simply because I fell in love with it the very first time I heard it!
The music on this disc is an interesting mix of riff rock mixed with moments of psychedelic and the lyrics Ian wrote tackle major issues BUT as a listener to the music you have 2 options....you can choose to pay attention to the deep thoughts Ian delivers via his lyrics OR you can rock out to the bands music & either way you get an enjoyable experience from start to finish with this record!
The expanded version of this CD comes in a really cool package that is essentially a small book complete with hard cover case and there's 4 bonus tracks which are the 4 new songs from the bands independent "Capsule" releases which were only available via the bands web site or live shows.
What's actually pretty cool about the new Cult record is that they could play this record from start to finish on their current tour and it sounds fresh because the material stands on it's own & the band are not stuck in a rut where their material sounds dated....the music on this cd sounds new, fresh & very hip for 2012. I give The Cult props because they said they would never put out a full length record again, they released 2 EP's & then went back to the basics and recorded a kick ass full length record which might be one of their best records EVER!
---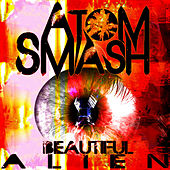 Beautiful Alien
Track Listing:
Beautiful Alien, Square 1, Hangman, Good Times Dark Ages, The World is Ours, Kiss From A Rose, Don't You Forget It, Cocaine Angel, Hole In MY Head, 2012 Baby, Kids Got Moves
This band has made some serious waves on Satellite radio and they have a great internet buzz so when I listened to the first track off this cd I was mildly surprised that a band like Atom Smash were doing decent in 2012 because their musical experimentation on some tracks are a bit different than what mainstream rock radio is pushing at this point...the band has a sound that's got a rock tone yet there's a subtle element of mellow in the first 1/2 of the record and where some songs have rock vibes there's a hint of other styles that make each song a unique listen.
For me personally I didn't form an opinion till I heard "Cocaine Angel" because that's the song where I thought to myself, ok, these boys DO have a good sound, they have a style & they are different than what's out there now.
"Cocaine Angel" is a lovely song that's my personal favorite off this record & you need to listen to this cd a few times before it all starts to sink it...there's a sexiness to the vocal style, there's a mild tone to the bulk of the music & there's only a few heavy rock moments on this record & that's not even what Atom Smash is about.....Atom Smash is a rock band that's got a collective sound & style that's hard to explain, you have to listen to them & leave your mind open to new sounds & styles...their brand of rock is unlike anything out there today & that's what makes them unique.
The band does a cover of "Kiss From A Rose" by Seal which is interesting & probably a clear radio hit if they push it.
---