Break (single)
Track Listing:
Break
I'll admit to you that I had little expectations when I put this single on because the cover art is bland and I was expecting another 1/2 assed metal band that thought they were going to take the world by storm with recycled stock chunka-chunka drop c riffs BUT when I popped this disc into my cd player I was pleasantly surprised because this single was f**king killer!
The song reminds me of early Mudvayne because it's mean, loud, brutal & crushing yet it also has a groove to it which makes it instantly memorable!
The guitar tone is heavy & reminiscent of Dimebag's crunchy yet clear tone & the vocals go from clean to aggro perfectly. Hands down this is the best Metal single I've heard in 2012 so far!
---
Alive & Rockin'
Track Listing:
Double Vision, Head Games, Dirty White Boy, Cold As Ice, Starrider, Feels Like The First Time, Urgent, Juke Box Hero / Whole Lotta Love, Hot Blooded
First things first, I had no idea this version of Foreigner was chock full o' so many faces from the past and what I mean by that is, Jason Bonham, son of Led Zep's John Bonham plays drums, Jeff Pilson formerly of Dokken is on bass, Kelly Hansen formerly of 80's glam band Hurricane is on lead vocals & the only original member of Foreigner is guitarist Mick Jones.
I have mixed feelings when a band only has one original member BUT regardless of that fact this version of Foreigner really does nail it & they capture the formula of the original band quite well.
"Double Vision" kicks the record off perfectly & the band actually sounds much heavier live than they do on the studio versions of these tracks and the cool little surprise on this disc is the cover of Led Zep's "Whole Lotta Love" which was probably chosen because of Bonham being in the band....too bad they didn't do a Dokken cover since Pilson is in the band!
"Dirty White Boy" sounds really powerful & I actually like the version on this record better than the original! I'll give it to Mick, he put together a great collective of musicians which really pay tribute to the original version of Foreigner quite well!
---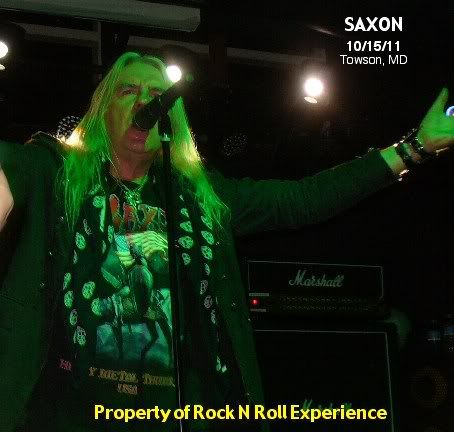 Heavy Metal Thunder - Eagles Over Wacken
Track Listing:
Disc 1 - DVD, Disc 2 & 3 - "Bonus Audio - Glasgow Live April 14th 2011",
Byford & the boys sound amazing on this 3 disc set which gives the fans alot o' music for the $$ and that's honestly a cool thing to see a band do because you don't always see a band give their fans 55 songs total on a 3 disc set!
I'd actually call this set an anthology or a mini box set because it's a very cool 3 disc set that covers all the bases as far as Saxon's past, present & future.
The first disc is a superb concert dvd that was filmed at 3 different sets from the "Wacken Open Air" fest & the music speaks for itself on this dvd...heavy f**kin' metal at it's best from these classic metal icons!
The sad thing is that Saxon are a truly amazing metal band BUT they never got the exposure here in the USA that they did overseas and when they play shows here in the USA they are usually doing smaller clubs whereas overseas they still play the large festival stages.
"747" off disc 3 has such great sound to it..the vocals are rich, the guitars are strong, the rhythm is intense and sadly most American Metal fans don't even know who Saxon are!
The bonus interviews on the dvd are informative & entertaining but what I really got from this set when I finished listening to it all was exhaustion and I mean that in the best way possible because this is a very lengthy 3 disc set that gives you alot o' music and I give Saxon props for taking care of their fans by releasing this package.
---
The Air Inside Our Lungs
Track Listing:
Somewhere Outside, Point Of You, Down Easy, Other Plans, I Want TO Know You, Run, Make You Love Me, Fireworks 2.0
Romantically mellow & seemingly flavored with pop elements the new record by New York based Measure is a mix of love songs and listless themes that are well written yet come off a bit boring if you like music with a bit more of an edge which I admit I personally do!
Musically this record is good, I can't say anything negative about the music on this disc, it's mellow approach is what the band does very well and fans of Feist will love this record!
---
Live at the Roseland Ballroom, NYC
Track Listing:
Disc 1: Let It Ride, Rock is My Life, Not Fragile, Hey You, Hold Back The Water, Waiting Game, Moonlight Rider, Lookin' Out For #1, Stayed Awake All Night, American Woman
Disc 2: Four Wheel Drive, Slave To The Rhythm, Blue Collar, That's What It Is, Sledgehammer, Rollin' Along, You Ain't Seen Nothin' Yet, Shakin' All Over, Roll On Down The Highway, Takin' Care of Business
It's interesting that Bachman & Turner can do an entire show when they only have 2 real songs that the US market knows and that's "You Ain't Seen Nothing Yet" & "Takin' Care of Business" which Elvis Presley had a hand in making huge here in the USA!
It's funny how when I think of BTO I think about guitarist Tim Bachman and his sexual assault case where he was found guilty for messing with & touching an underaged child from age 11 - 14. Thankfully Tim isn't a part of this project!
I didn't realize until I read the liner notes of this cd that "American Woman" which the Guess Who made popular was actually co-written with Bachman so it's a no brainer that this band does a cover of the Guess Who standard, but again I'll say that while the band sounds great on this live record they could have easily chopped it down to a 3 song EP because most casual classic rock listeners will only recognize 3 songs off this record.
---
Live in 1993 from Boggo Road Jail
Track Listing:
You don't see rock n roll bands like Rose Tattoo any more and it's a damn shame that the band never truly cracked the US market because when you watch this dvd you realize how much bands like Guns N Roses & Buckcherry truly borrowed from Rose Tattoo!
I'll fess up and admit that if it wasn't for Guns N Roses covering "Nice Boys" by Rose Tattoo off the bands "Lies" EP I wouldn't know who Rose Tattoo was/is and that's a crime if you love real, dirty, raw rock n roll music!
Anderson has the vocals of an early Bonn Scott from AC/DC but sadly he has the body of Dave Draiman from Disturbed and the rest of the band are an odd looking bunch when you see them offstage, Pete with his mullet, etc., but when the band takes the stage they own the shit out of everything they do and I will also point out that the slide guitar work Pete lays down is sweet to the ears!
"Street Fighting Man" by the Rolling Stones was covered at this show & "Going Down" is the sets closer featuring Billy Thorpe on guitar!
Anderson proclaims that something was as useless as a dick on a cow at one point in the show & the overall beauty of this band is that it's 5 men getting onstage to play REAL rock n roll...there's no glam, no glitz, nothing pretty, it's just the real deal blood, sweat & beers when Rose Tattoo take the stage & this dvd sums up the bands essence 100%!
---